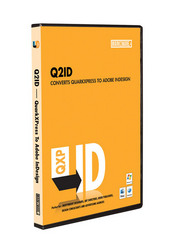 "Over the years, I have found the Markzware Conversion Tools to be some of the best written and easy to use products on the market. The latest upgrade of Q2ID is the one major tool that Adobe "should have" written into InDesign." Said Allen Ka
Santa Ana, California (PRWEB) June 3, 2010
Markzware (http://markzware.com), the leading developer of preflighting, data extraction and conversion software today released an upgrade of Q2ID v5 (Quark to InDesign), its highly-acclaimed file conversion plug-in for Adobe. Q2ID v5 is a quick, easy and affordable method for migrating QuarkXPress content into a new Adobe InDesign document.
Macintosh is now available
This new version boasts full plug-in support for Adobe InDesign CS4 and CS5 and can convert documents in QuarkXPress versions 3.3 through 8. Q2ID v5 is developed with the needs of the graphic arts industry in mind. Q2ID translates the intricate content details in a Quark file and instantly recreates it within Adobe InDesign. It can convert a file from Quark to InDesign, while including such items as page positioning, color models, fonts and styles, images, and text attributes, as well as tables, layers, blends, runarounds, linked text boxes & anchored boxes, Pantone and other color models.
Markzware's Q2ID conversion technology will save you countless hours of scanning, re-keying and formatting. Whether you choose Q2ID for Apple Macintosh or Microsoft Windows (to be released soon!), Q2ID can convert files in Quark, authored on either system, and transform them.
Q2ID Accolades
Michael Zack, graphic artist for the Oakland County Government in Oakland, Michigan said, "When you don't use Quark on a regular basis it is quite daunting to convert a document manually. With Q2ID it is as easy as opening up any document in InDesign. You really don't have to think about it."
"Q2ID is truly an amazing piece of engineering and the simplicity of it use is great....It's the best $200 I spent. Paid for itself the day I bought it. Can't get a much better ROI than that." -- Caleb Clauset, Design and Consulting 2CDesign.
Hollis Barnhart, freelance graphic and layout designer, said "Q2ID is indispensable. It was a wonderful investment, and it saved me and a client a lot of work."
"Over the years, I have found the Markzware Conversion Tools to be some of the best written and easy to use products on the market. The latest upgrade of Q2ID is the one major tool that Adobe "should have" written into InDesign," said Allen Kalka, Web-n-Design.
System Requirements:
For Macintosh:
G5 or Intel based Mac, 2 GB RAM, 1280 x 800 screen resolution, Mac OS v10.5 to v10.6x
Pricing and availability:
Markzware's upgrade of Q2ID v5 is available from Software House International (SHI), Software Spectrum, Programmers Paradise, MacConnection, CDW and through Markzware Direct Sales at (800) 300-3532, or at Markzware's online store. The MSRP is $199 and the upgrade is $99 for users of Q2ID v3 or v4 or $129 for users of Q2ID v1 or v2. For more information, please visit http://markzware.com/q2id .
About Markzware:
Markzware, a privately-held company based in Santa Ana, California, is the leading developer of quality assurance, data conversion and workflow solutions for the international graphic arts, printing and digital multimedia industries.
2010 Markzware©. All rights reserved. Covered by U.S. Patent #5,963,641.
You can follow Markzware on Twitter at
You can check out Markzware on Facebook at
http://www.facebook.com/markzware
You are also welcome to join the Markzware User Group on LinkedIn at
http://www.linkedin.com/groups?home=&gid=70725
# # #