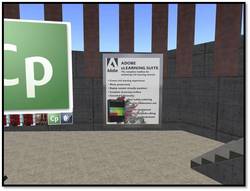 New York (PRWEB) January 25, 2009
Moderne Interactive, a digital advertising agency specializing in social media applications, web 2.0 and virtual worlds, is launching an eLearning experience for Adobe Systems in the virtual world of Second Life. The two days of launch events, scheduled to take place on Adobe eLearning Island in Second Life on Monday the 26th and Tuesday the 27th of January, will feature Adobe product evangelists, "how-to" seminars highlighting new Adobe products, community-focused forums, and much more.
Adobe Product Evangelist RJ Jacquez will lead an interactive demonstration from Second Life at Noon Pacific Time (12 p.m. SLT) both days. Jacquez will showcase the powerful features that the new Captivate 4 and eLearning Suite products can offer to education, government, and other communities. In addition to live product demonstrations by Jacquez, Adobe and Moderne representatives will be on hand to distribute free trials of the innovative software, to answer questions, and to direct users to further resources.
At 7 p.m. on Monday and at 4 p.m. on Tuesday, the Adobe eLearning Island will also hold a celebration of Second Life community that will feature resident Second Life musicians and artists who will share their talents with the gathered crowds.
During and after the launch events, Adobe will keep its eLearning Island open to the public to highlight its eLearning Suite and Captivate 4 products via, which launched early this week. The island features several interactive elements meant to educate and entertain audiences about Adobe's eLearning products. Adobe's eLearning Island can be reached in Second Life at the following location: http://slurl.com/secondlife/Adobe%20eLearning/38/38/37.
Leigh Rowan, Chief Strategist for Moderne Interactive's parent company Moderne Communications, expounded on Adobe's presence in Second Life: "Moderne is thrilled to be able to launch the Captivate 4 and Adobe eLearning Suite products in Second Life - especially after their highly-successful real world launch this past week. We are excited to introduce these great products to the education, e-learning, government and other communities on hand in Second Life."
The digital advertising agency also notes future events that will take place on the island in the coming months.
For more information on Adobe's eLearning Island, or on Moderne Interactive, please visit http://www.ModerneInteractive.com.
About Moderne Communications, Inc.
Moderne Communications, Inc. is a unified consumer and business marketing and advertising agency committed to creating effective programs that reach target audiences with right message, at the right place and time, when they are most likely to engage. Moderne Communications achieves its motto of "Reach Anyone Marketing" with its three operating units - Moderne Promotions, a nightlife and event marketing specialty firm; Moderne Interactive: a digital agency serving Web 2.0 and virtual worlds; and Moderne Mosaic: a multicultural media company focusing on urban/neighborhood media and college/total consumer market programs. Moderne's client list includes McDonald's, Adobe Systems, the Ontario government, Heineken, the World Bank, Nestle, and many more. Moderne is headquartered in New York and maintains an office in San Francisco. For more information please see http://www.ModerneCommunications.com.
Source: Moderne Communications, Inc.
###