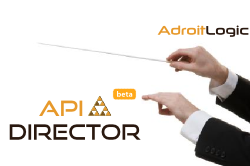 Supports distributed and concurrent downloading and processing of multiple files in parallel.
Singapore (PRWEB) September 27, 2012
AdroitLogic Private Ltd. announced today the launch of its File Gateway Solution, based on its free and open source Enterprise Service Bus, UltraESB. The File Gateway will provide FTP, SFTP, FTPS, Local File and Shared file connectivity options with a simple to use web based user interface, that defines the relationships, polling schedules and credentials of the various trading partners. The solution has been deployed to simplify the definition and management of interactions with hundreds of trading partners, for a financial industry client in the US. The File Gateway will be generally available as a part of the AdroitLogic APIDirector in 1Q 2013.
The File Gateway becomes the second major module of the APIDirector, after the AS2 Gateway module - used to integrate with B2B trading partners using the AS2 protocol. The publicly hosted AS2 Gateway instance offers free AS2 connectivity for many SME's, and also offers electronic invoicing support. "The File Gateway provides support for EDI, XML, Text, Binary and Custom file formats, including support for secure SSH key based authentication, as well as support for distributed and concurrent downloading and processing of multiple files in parallel" said Ruwan Linton, Director of Engineering of AdroitLogic
For more information about the File Gateway or the APIDirector solution, and to participate in the beta program please contact AdroitLogic at info(at)adroitlogic(dot)com
About AdroitLogic
AdroitLogic Private Ltd. founded in January 2010, is a privately held innovative technology company based in Singapore, that believes in, and proves, that better design and clever code yields much better software. AdroitLogic is driven by an exceptional team of integration experts with many years of ESB development experience, and backed by the dedication and commitment of its founders, who are personally involved with the design, development and support of its products.