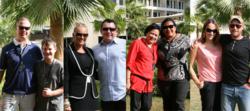 Advanced Global Trading - The global leaders in the Verified Carbon Market
Dubai (PRWEB) December 18, 2012
The Advanced Global Trading AGT competition winners were treated like VIP's for the day with a door to door chauffeur driven luxury car at their disposal for Grand Prix race day. Advanced Global Trading's winners first stop was the five star hotel The Crowne Plaza in Abu Dhabi, for a delicious lunch at Stills Bar and Brasserie courtesy of AGT followed by a trip to Yas Marina Circuit to watch the formidable Kimi Raikonen of the Lotus F1™ Team win the Abu Dhabi Grand Prix 2012.
After the race all the winners watched Eminem perform at the closing concert before their chauffeurs took them home to their beds after a very long day of festivities.
Visit http://www.advancedglobaltrading.com for a FREE Investment Brochure or to contact our Group PR Director Ian Hainey.
Advanced Global Trading is the global leader in the verified carbon market and the first world-class sustainable investment group to trade Verified Emissions Reduction Carbon Credits. AGT official partner of the Lotus F1 Team offsetting all their carbon emissions.