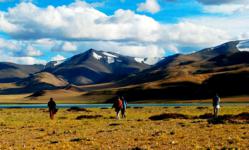 The expected numbers of visitors in Ladakh in 2013 is around 193,000 to 240,000.
(PRWEB) March 21, 2013
Ladakh invokes a paradoxical feeling of infinite serenity mixed with the right quantity of excitement and adventure.
The tourism industry in Ladakh has been growing with record breaking numbers and is a major socio-economic sector for Ladakh! Thrillophilia recently conducted a survey on 62 companies in India who sell Ladakh adventure tours and on an average there is 27% rise in bookings from last year. Most of the companies reported that there is a huge demand of adventure travel tours from the domestic as well as international consumers.
Tourism as a concept in Ladakh that dates back 36 years ago to 1974. In the last five years, there has been a steep increase in the number of tourists visiting the place. The adventure travel companies have registered 28% higher bookings this year compared to last year and 35% rise in adventure tours such as trekking, rafting and climbing. The expected number of visitors in Ladakh in 2013 is around 193,000 to 240,000.
Statistics as per August 2011 arrivals reveal that Ladakh welcomed 1.5 Lakh visitors out of which 80% were domestic tourists while 20% were foreigners, mainly from west Europe and US. India is clearly a rising economy and with the advent of rise in the disposable income the influx of Indian tourists has grown substantially.
This boost in tourism has played a significant role in shaping the economy and improving the country's socio-economic status. Tourism in Ladakh has generated immense job opportunities to a wider section of Ladakhis to the extent that it forms almost 50% of their local GDP.
The geography of Ladakh has always helped the country in positioning itself uniquely as compared to other destinations across the globe. Add a bit of culture, tradition and a unique terrain and what you get is an awesome and wonderful mix of panorama and adventurous experiences. This rocky expanse is home to one of the remaining untouched Tantric Buddhist residents on earth. By sheer force of geography, it is protected from colonial intervention, raging Mughals and the effects of Cultural Revolution.
For an adventure-seeker, Ladakh is one helluva ride! Bound by mountains, bearing walls of rock and ice separating the Indus valley from Tibet, Himachal Pradesh and Kashmir, Ladakh offers some narrowing patches of greens that cling to the water beds draining down from the mountain glaciers.
In this millennial, so called digital-freaks are eager to see the world with their own time and pace! Or should we say they're going and hitting the roads in growing numbers.
As Abhishek Daga, the co-founder of Thrillophilia.com, the biggest activity and adventure travel curator in India, quoted – "Since last few years, Ladakh has been fascinating many tourists across the globe, and we have observed a steep rise in the number of customers from last 2-3 years. This year most of the fixed departures are already pre-booked and now we are adding new tours to handle the demand. Indians are also turning into adventure junkies and the most popular treks for them are Markha valley trek and road trip to Ladakh from Manali. Other commonly sought after trips on the website are cycling tours, motorbike trips, jeep safari, camel and yak safari, and longer duration trekking tours."
One can imagine the fascination a motorbike tour in one of the most picture perfect and remote locations in the world, the Changthang plateau, brings. Mesmerising blue waters of the Pangong, Tsomoriri and Tso Kar lakes can also be cherished. Or travelling along the ancient Silk Route, link between India and Central Asia, and to the highest motor-able pass in the world, Khardung la Pass are one of the everlasting experiences.
For novice and amateurs, Thrillophilia.com provides a starter expedition with Stok Kangri Trek. In spite of the tricky climb there are some fascinating monasteries in the Indus valley along the way. Also, Markha Valley Trek is one of the most diverse and attractive treks in Himalayas and is easily accessible from Leh.
Ladakh is finally getting its justified share of limelight after scenic locations shot in Bollywood's biggest blockbuster "Three Idiots" and it is no surprise that everyone wants to have a piece of amazing experiences abundant in this beautiful valley!