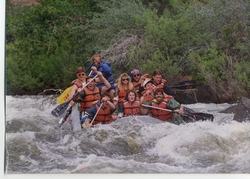 You will meet more people and try more activities in 3 months, than you probably did in the last 3 years
(PRWEB) November 12, 2008
Adventures Activity Club 2000, Arizona's best planner of singles events, offers more than what a typical dating service can and is looking to prove it to local singles by offering a trial membership at a special holiday price of just $299. The deadline to register is December 31, 2008.
Since 1999, Adventures 2000 has been Arizona's best and most active singles events club. With nearly 30 professionally staffed events each month ranging from movie nights and wine tastings to white water rafting and ski trips, Adventures 2000 has something to get any single excited.
This year that includes the best New Year's Eve celebration in Arizona at Adventures Activity Club 10-year anniversary bash located at the Grace Inn in Awatukee. The event begins at 8 p.m. and will include a live DJ with dancing until the ball drops. The evening includes a variety of hors d'oeuvres and complementary champagne toast. Preregister by December 10 and the cost is just $45. After December 10, the cost is $55.
Adventures 2000 advantages range from its members and price to safety and standing in the community. Adventures 2000 has nearly 1,000 active members to interact with at various events, so members can meet a variety of people instead of the same dozen people at every event.
Adventures 2000, who is an active member of the Arizona Better Business Bureau, can offer its members safety and certainty. Unfortunately, online sites attract many predators and married people pretending to be single, but Adventures 2000 performs a background check on each member to ensure that each person is why they say they are.
To top it off, singles can get all this for a fraction of the cost of mundane dating services. So why spend thousands when Adventures 2000 offers more entertainment and opportunities for just $299 this holiday season. Members will save hundreds of dollars over a year's period by taking advantage of group discounts offered by Adventures 2000.
"You will meet more people and try more activities in 3 months, than you probably did in the last 3 years," CEO and founder Dan Halbert said. "Sometimes people just need to stop looking for someone to date and start working on their social life. The absolute worst thing someone can do, when coming out of a divorce or break up, is to jump right back into another relationship. Adventures 2000 offers an alternative, to those lonely nights."
About Adventures Club 2000
Adventures Activity Club 2000 was started in Phoenix in 1999 specifically for Arizona singles tired of the typical dating scene and looking for a new type of dating service. Today, it boasts nearly a 1,000 members and offers as many as 30 singles events a month ranging from dinners to movies to international travel. Adventure 2000 organizes professionally planned singles activities that promote a fun, relaxed atmosphere to meet new people, find friendship, or discover that special someone. To learn more, please visit http://www.adventures2000club.com.
###