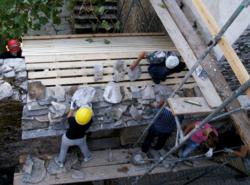 We have a fantastic group of young professionals ... working on the site.
Gjirokastra, Albania and Boulder, Colorado (PRWEB) September 13, 2012
Adventures in Preservation (AiP) announces that historic preservation work is underway to save the UNESCO Category I Skenduli tower house in the World Heritage Site of Gjirokastra. This hands-on skills training project supports efforts to develop a sustainable economy in Gjirokastra through heritage tourism. Historic architecture is one of the city's few available economic resources, and the Skenduli house is recognized as a pivotal piece of the plan to attract tourists.
Adventures in Preservation in partnership with Cultural Heritage without Borders (CHwB) reached a major milestone at the Skenduli house after two years of joint planning and fundraising. The first group of twenty building conservation trainees arrived on September 1 to begin repair and restoration work.
Trainees, comprised of architecture students from Polis University in Tirana and international volunteers, are receiving classroom instruction from preservation professionals and hands-on training from Balkan craftsmen skilled at working with traditional materials such as lime plaster, woodwork, and stone.
Two primary tasks are currently underway: repair of deteriorating lime plaster on the exterior wall, and restoration of the main entrance gate, which has partially collapsed. Local roofing experts are also repairing leaks in the massive stone slab roof.
The project is going exceedingly well according to Lejla Hadjic, CHwB project coordinator, "We have a fantastic group of young professionals in cultural heritage conservation from ten countries working on the site."
The Skenduli house is a magnificent example of the blending of Albanian and Ottoman architecture that evolved with 500 years of Ottoman rule. The three-story tower house is built of approximately 3 million stones with an interior that exhibits the best local craftsmanship in intricate woodworking and decoratively painted plaster.
AiP and CHwB developed this restoration project to enhance and support a larger program initiated by the City of Gjirokastra and the Gjirokastra Conservation and Development Organization. This program is designed to save and renew the city's cultural heritage and includes the overwhelming task of saving several hundred masonry tower houses that have survived a century of neglect.
Creation of a sustainable economy and improving the community's standard of living is largely dependent on heritage tourism. AiP team members are working to see that the backbone of heritage tourism, the stone tower houses, is maintained for use as residences and businesses, and will remain a vital part of the community.
For additional information on ongoing historic preservation efforts in Gjirokastra's World Heritage Site, contact Judith Broeker or visit adventuresinpreservation.org.
Adventures in Preservation is a non-profit organization connecting people and preservation through enriching experiential programs. AiP's one- and two-week hands-on volunteer vacations give travellers the opportunity to truly experience their destination and learn hands-on skills while saving valuable community resources. AiP envisions a world where people use, understand, and appreciate historic buildings that are vital to economic and environmental sustainability.
Cultural Heritage without Borders is an international relief organization working to promote peace, recovery and development through the preservation of cultural heritage. CHwB believes that working with cultural heritage can help vulnerable groups recover their sense of dignity and empowerment.
Contact:
Judith Broeker
Adventures in Preservation
303.444.0128
jbroeker(at)adventuresinpreservation(dot)org
http://www.adventuresinpreservation.org