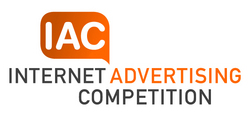 The creativity and excellence in execution continues to rise in Online advertising
Simsbury, CT (PRWEB) March 22, 2010
The Web Marketing Association announces the winners of its annual Internet Advertising Competition (IAC) Awards, an effort to honor excellence in online advertising and to recognize the individuals and organizations responsible for the best in Internet marketing. The IAC Awards are the first and only industry-based advertising award competition dedicated exclusively to online advertising. The Competition web site with a complete list of winners is located at http://www.IACAward.org
"The creativity and excellence in execution continues to rise in Online advertising," said William Rice, president of the Web Marketing Association, Inc. "The Web Marketing Association is pleased to help set the standard for Internet excellence with the IAC Awards by highlight the best in online advertising by medium and industry."
2010 Best of Show Awards were awarded in each of the online medium categories. This year's winners include:
e-Dialog,Inc. for e-Dialog 2009 Holiday Card (Best of Show Email message)
Conde Nast Digital for Proctor & Gamble: Must Have Its (Best of Show Online campaign)
Dean Media Group for Platform Addict (Best of Show Ads the client did not pick)
Bridge Worldwide for Pasta Al Denta Banners (Best of Show Integrated ad campaign)
Biggs|Gilmore for Gliders (Best of Show Interactive application)
Biggs|Gilmore for Video Recipes (Best of Show Online Video)
Biggs|Gilmore for FrootLoops.com (Best of Show Website)
COSSETTE for Living Breathless (Best of Show Rich media Online ad)
Y&R New York/VML for Give It A Ponder (Best of Show Rich media Online campaign)
imc2 for Pizza Hut iPhone App (Best of Show Mobile application)
PGATOUR.COM and Datran Media's StormPost for PGATOUR.COM Scores Hole in One with Video in Email (Best of Show Email message campaign)
Mattel & Razorfish for PGATOUR Hot Wheels Battle Force 5 (Best of Show Online ad)
Miles Media for VISIT FLORIDA (Best of Show Online Newsletter campaign)
Biggs|Gilmore of Kalamazoo, MI was recognized for the second year in a row with the 2010 Top Agency Award, winning 16 IAC Awards. Their awards include 3 Best of Show awards, 9 Best of Industry awards and 7 Outstanding awards.
IAC Award winners who received at least five awards include:
AGENCY (number of awards)
Biggs|Gilmore 16
Bridge Worldwide 10
VML 10
BlueRush 9
Conde Nast Digital 8
Organic, Inc. 7
USDM.net 7
Aristotle 6
BGT Partners 6
Disney Parks & Resorts Online 6
Hitchcock Fleming & Associates 6
COSSETTE 5
John Hancock 5
Leopard 5
Razorfish 5
The Kaplan Thaler Group 5
Y&R 5
The Competition web site with a complete list of winners is located at http://www.IACAward.org
About the Web Marketing Association:
The Web Marketing Association is an organization working to create a high standard of excellence for Web site development and marketing on the Internet. Staffed by volunteers, it is made up of Internet marketing, advertising, PR and design professionals who share an interest in improving the quality of advertising, marketing and promotion used to attract visitors to Web sites. Since 1997, the Web Marketing Association's annual WebAward Competition has been helping interactive professionals promote themselves, their companies, and their best work to the outside world. Now in its 14th year, the WebAward Competitions have become the premier event for Web developers and marketers worldwide.
The Web Marketing Association is now accepting entries for the 14th annual WebAward Competition for Web site development at http://www.webaward.org. Deadline for entry is May 25th 2010.
###