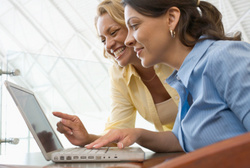 Miami Beach, FL (Vocus) November 4, 2010
Has the Golden Age of internet advertising arrived for businesses? Karma Snack thinks so. Karma Snack is a leading provider of online advertising services, e-commerce services, lead generation, branding, search engine management, Internet marketing and Miami web design. This Miami based digital agency has been a provider of marketing consulting services since February 2009. Recently, the company acquired CK Design Plus in an effort to provide the best services possible. Integrated marketing combines all aspects to provide a more comprehensive approach to increasing customer awareness.
The experienced staff is comprised of experts with over 15 years of experience. The company has successfully helped clients improve search engine rankings in shorter time periods than traditional SEO companies. The Karma Snack team is looking at providing results in 2 to 12 weeks whereas other professionals will achieve results within 6 to 12 months.
Bottom line, the goal at Karma Snack is to maximize a business's Return on Investment (ROI). Karma Snack secures the latest technology and uses the latest principals to increase online visitors and online sales. Web 2.0 is often employed to ensure the client's customers are provided with the best online experience. A pleasant experience will improve sales conversions and thus, increase customer revenue. Brand Director, Adelard Gasana states simply "Only results matter."
Karma Snack designs four different types of websites: e-commerce, lead generation, branding and informative websites. Each type of website requires special techniques to maximize the amount of traffic driven to the site. The different online marketing services Karma Snack utilizes assists the growing number of companies utilizing the Internet to increase the their revenues.
During a challenging economy, Internet marketing and integrated advertising services are the most affordable way to market a business. Businesses may reach millions of customers for very little investment. Once the website is established by digital agency, there is minimal upkeep required aside from the search engine optimized articles. Karma Snack assists clients by fine-tuning their marketing strategy to ensure that they maintain a competitive edge and advantage in the industry.
Web marketing is not just about driving traffic to a website. When customers arrive to the client's website from a search engine, the website must be compelling and interesting to encourage the customer to read about the product or service. The content must encourage customers to purchase a product or service while on the site. Customers must feel confident in the company's ability to provide the service. Karma Snack provides this through customized audience funnels, convincing content, and behavioral analytic models. Integrated Internet advertising combines all of these aspects into one package for a comprehensive marketing solution.
Karma Snack provides viable solutions that will increase a company's revenue and exposure to potential clients. When people are struggling financially, a company's job to influence a customer to buy becomes increasingly more difficult. Companies must become creative to encourage clients to part with hard earned money. Karma Snack realizes that branding and reputation are a significant part of encouraging customers to buy. Customers who feel that the companies are trustworthy will purchase more products and remain loyal, a key to the agency's overall branding campaigns and web design for clients.
Karma Snack clients are kept informed throughout the development and marketing campaign process with progress reports with weekly updates on progress and results. Now with the acquisition of Miami Web Design firm CK Design Plus Karma Snack is expanding upon the current services and getting into more customized web development solutions for clients. More information on Karma Snack's impressive new Artificial Intelligence PPC and SEO technologies or any of the other services the company offers is available at the company's website at KarmaSnack.com. Interested parties can also call the company at (305) 767-3630. Karma Snack is headquartered in Miami Beach with a Web Development office in Boca Raton.
###