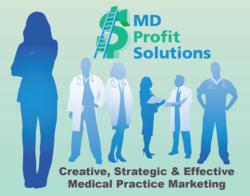 Improve your appeal, get your message noticed & consistently get more clients in the door. Patients will be more educated, fully aware of what YOU can do for them, and be more impressed with your attention to their need to know.
Laguna Beach, CA (PRWEB) September 27, 2012
With the launch of MD Profit Solutions' revised website, physicians can view all available cosmetic concierge marketing services available to help them capture more aesthetic patients. The Tips Page gives physicians direct tools and advice that can be used instantly to drive more revenue to their medical private practice. The Resources Page gives physicians insight into the patients' needs and decision-making process which can facilitate prudent sales and marketing decisions.
The extraordinary growth in aesthetic medicine has pushed sales in cosmetic procedures to nearly $11 billion in 2010. 83% of those cosmetic procedures were non-surgical treatments according to the American Society of Plastic Surgeons. That figure is increasing dramatically as new and better laser technology and injectable techniques are introduced on a yearly basis. Doctors know the profitability potential with offering cosmetic treatments and they want to grab a piece of that market. The dilemma for physicians is how to deliver and educate this new exciting technology to capture patients' interest and make them open their wallets.
Medical school didn't equip physicians with business and marketing skills. Especially when it comes to the art of selling aesthetic procedures valued at hundreds and thousands of dollars, physicians are often lost and simply don't know the proper protocol to educate and sell the cosmetic procedures. A lot of doctors lack the knowledge of how to build rapport with patients and how to gain their trust.
"Knowing how to educate and entertain patients with information about your cosmetic services means more calls, consultations, and bookings. Knowing how to correctly and compassionately treat patients means repeat business and referrals. All of this equates to more revenue and profit for your business," explains Danica Tran, owner and founder of MD Profit Solutions.
The doctor's time is valuable and limited, therefore, MD Profit Solutions strategically handles staff training, design work, copywriting, educational materials, e-videos, printing, and a multitude of marketing services for smooth and effective operational flow. MD Profit Solutions' consulting and coaching approach gives physicians and their staff practical and personal skills to win patients and gain competitive advantage.
There's no shortage of patients wanting to look and feel their best, but the competition is fierce in aesthetic medicine. So many physicians including OB/GYNs, neurologists, family practitioners, and even dentists are branching out to offer cosmetic injectables and laser procedures. The question for doctors is what can be done to distinguish their practice from competitors. And, how can doctors build patient trust and earn patient referrals?
"What differentiates MD Profit Solutions from other aesthetic marketing agencies is that we don't just analyze your private practice and simply hand you a bullet point list of objectives and promise to call on a weekly basis to check-up on you. It's like saying here are the problems and you're on your own to make the changes happen. We all know that nothing gets done that way. The results-driven marketing strategies provided by MD Profit Solutions come with a step-by-step implementation plan from start to finish. It's a true partnership to make a difference."
MD Profit Solutions specializes in helping private practices with strategic and creative medical marketing and strategic operational solutions to promote elective, cash procedures for…
-Cosmetic Dermatology Marketing
-Injectable Fillers & Volumizers Marketing
-Laser Marketing
-Plastic Surgery Marketing
-Hair Restoration Marketing
-Infertility/Fertility Preservation Marketing
-Cosmetic Dentistry Marketing
Danica Tran, the founder and owner of MD Profit Solutions, has a Masters in Business Administration degree with an emphasis in marketing and entrepreneurship. She has worked for both the corporate and private sector and was a former business manager for a thriving cosmetic and medical dermatology practice in Southern California. Under her management and supervision, that dermatology practice received record breaking industry revenue and profit. Her business smarts, patient care outreach, creative skills, and artistic background deliver results for her clients.