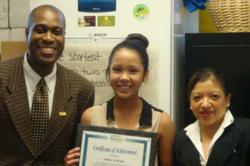 Suitland, Maryland (PRWEB) March 29, 2013
Story written by Zackery DeHart, Schweinfurt High School and originally posted on schweinfurt.army.mil
Financial literacy is an important step toward a successful transition to college and careers for our high school students.
Andrews Federal Credit Union, in collaboration with Army Community Service, sponsored the student competition "Road Trip to Savings," which was open to all USAG Schweinfurt students in grades 9 through 12.
"The goal of Road Trip to Savings was to encourage our students to think about their financial future and plan ahead. The responses were inspiring and well thought out, the goal was met and our Andrews Federal team is very proud of everyone who participated," said Elba Barnaby, Branch Manager of Andrews Federal Credit Union.
The competition had three categories — Art, Literature and Photography — and was designed to let the students demonstrate their creative sides. Toward the end of the year, the students are a bit bored of writing essays, so they were happy to have the opportunity to be artistic.
More than 20 students from the Schweinfurt High School Career Practicum and Family and Consumer Science classes applied. Out of the many entries, only two students won the top prize of $50 in the categories of Art and Literature. Logan Mansfield and Aimee Cutcher, both seniors, stood above the rest for their creativity and effort.
"I like to write poetry. It's fun," said Logan, in complete surprise after having received the award. His poem about how he will reach his life's goals showed a positive and determined outlook.
Aimee's painting of shadowy people and a car with a license plate reading 'determination' driving into the sunset elicited gasps of appreciation. Cutcher remarked that she will be saving the money for college.
About Andrews Federal Credit Union
Andrews Federal Credit Union was founded in 1948 to serve the needs of military and civilian personnel by providing a vast array of financial products and services. With over $900 million in assets, Andrews Federal has grown to serve more than 100,000 members in the District of Columbia, Joint Base Andrews (MD), Joint Base McGuire-Dix-Lakehurst (NJ), and military installations in central Germany, Belgium, and the Netherlands. In addition, the Credit Union serves as a financial partner with many select employee groups in Maryland, the District of Columbia, and New Jersey.
To learn more about Andrews Federal Credit Union and its community involvement, please visit http://www.andrewsfcu.org.