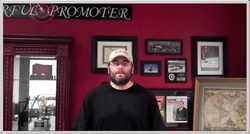 they'll be releasing over $27,000 in bonuses to the top competitors who make the most sales inside the launch
Duluth, GA (PRWEB) December 23, 2010
A recent Gallup poll revealed that American consumers plan to spend an average of $715 on gifts this holiday season. Much of that sum will be charged to credit cards, with the anxiety over how to pay for it all being pushed off to January. Affiliates and JV partners who are part of the December 28, 2010 Mass Money Makers' debut on ClickBank, however, will likely have that Christmas debt all paid off before the bills even roll around. The recent announcement that over $30,000 in bonuses will be released to the top competitors during the launch week is making that appealing scenario even more likely than before.
Why are Matt Bacak and Alen Sultanic, the Internet marketing brains behind Mass Money Makers, sweetening the pot with so much extra cash? They want to ensure they make history by skyrocketing to the top of the charts and hitting their goal of 20,000 sales in seven days. In short, they want to hit number one on ClickBank with a record-setting number so big it will go down in the annals of time.
To that end, they'll be releasing over $27,000 in bonuses to the top competitors who make the most sales inside the launch. But they're not stopping there. They've also just announced the unveiling of a seven-day launch contest, where every day they'll be giving out $1,000 to the day's top seller. That $1,000 payout will begin on the first day the product is launched, December 28, 2010, and will be repeated for seven consecutive days. In the process, seven lucky Mass Money Makers' promoters will be receiving $1,000 instantly in their PayPal accounts.
It's not just the top-selling big guns, however, who will be in the running for some extra incentive cash. Every affiliate and JV promoter how makes just one sale will have his or her name tossed into a second contest hat. The individual whose name is drawn will win $100, which will be instantly PayPal'd to him or her.
Because promoters will already be earning $314 for every sale they bring in, these bonus cash awards are just icing on the cake. And the odds of walking away with some of these sizable spoils are better than any other game of chance out there – not to mention being a whole lot cheaper and easier to win than, say, the lottery. According to a 2008 MSN Money report, "About one-half of American adults spend $45 billion annually on some 35,000 lottery games," with the odds of winning often being less than one in 100,000,000.
Internet marketing affiliates and JV partners who want their shot at the Mass Money Makers' bonus cash giveaways can learn more by contacting Tamara Smith at (770) 623-3008. For more information on how to get in on these contest winnings in time for the ClickBank launch, visit http://www.massmoneyjv.com.
###