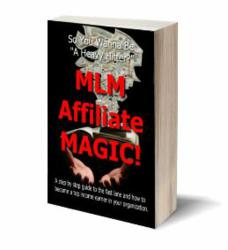 Just like a Boomerang - if you give away huge amounts of value on the front end, prospects will come back knocking on your door with credit card in hand wanting to join your business.

Vancouver, B.C. (PRWEB) March 07, 2013
Darren Little, the creator of The MLM Superhero brand has officially put the affiliate industry on notice. Old MLM recruiting methods are outdated and MLM Affiliate Magic with its revolutionary Boomerang Sponsoring System reveals how target marketing strategies can eliminate rejection from the Network Marketing industry completely.
According to Darren Little, success with both affiliate marketing and network marketing lies in personal branding and providing value to the marketplace. Boomerang Sponsoring provides an entire blueprint upfront without asking prospects for any money. Little added, "MLM Affiliate Magic is like adding Nitrous Oxide to fuel for the affiliate industry. It provides affiliates with the two things that are the lifeblood of any business; endless leads and daily operational cash flow".
Where most companies in this market space teach their affiliates to make a list of friends and family, the MLM Affiliate Magic training - guides seasoned and brand new network marketers on how to use target marketing and boomerang sponsoring strategies to create major growth in their business in their first 30 days.
Darren Little's MLM Affiliate Magic teaches entrepreneurs how to build a successful online business without having to attend hotel meetings, make cold calls, harass friends and family or talk to complete strangers in line-ups. It allows biz owners to blend target marketing strategies with traditional relationship building skills to quickly move up in rank at lightning speed. It teaches affiliates also how to establish visibility, credibility and how to profit from their relationships.
Little said "It is still about winning friends and influencing people. We have to have a brand to attract more prospects who want more information. I am not here to knock down traditional network marketers. I have a huge respect for the seasoned MLM professionals who have made it past $20,000 a month. Why? Because it takes a lot of personal development training, persistence and dedication to achieve this type of a monthly residual income with conventional strategies."
In his guide, Little shows the importance of "target marketing" and "boomerang sponsoring". Little says "Target marketing is about knowing your target market, speaking the right language and providing solutions to people's problems.
In his affiliate marketing guide MLM Affiliate Magic Darren Little points out the beauty of boomerang sponsoring is that it allows network marketers to get paid to prospect. "Just like a Boomerang - if you give away huge amounts of value on the front end, prospects will come back knocking on your door with credit card in hand wanting to join your business" says Little.
Relationship marketing is about creating a connection, establishing a bond, nurturing it and building strong relationships over time and that's exactly what Boomerang Sponsoring does. And again, Darren Little never misses the opportunity to talk about one of the most important elements of business success – mindset. Little puts a huge emphasis on the power of visualization and teaches people how to manifest anything they want in life.
For a limited time, Little will be giving away 150 free copies of his book MLM Affiliate Magic valued at $197. Books will be given away on a first com first served basis. To get a copy of MLM Affiliate Magic go to http://www.MLMSuperhero.com.
To work with Darren Little and be a part of his mastermind team visit his main site at http://www.DarrenLittle.com
About Darren Little: Darren Little is the creator of Unleash The Alpha Within and the co- author of the MLM Affiliate Magic, an affiliate marketing guide for online entrepreneurs. Little is a contributing author to Chicken Soup for the Network Marketer Soul, a marketing trainer and a business mentor for over 20 years. Little is available for media interviews and speaking opportunities. To learn more about Darren Little go to http://www.DarrenLittle.com