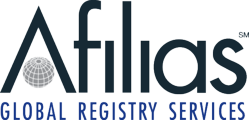 Afilias has helped launch more new TLDs than any other provider, and has long been recognized as a leading provider of the critical registry services required by ICANN for new TLDs
Singapore (PRWEB) June 21, 2011
Afilias Limited, a leading provider of Internet domain name registry and Domain Name System (DNS) services, and RIGHT OF THE DOT LLC, a consulting firm with expertise in domain name valuation, today announced that they have entered into an agreement to assist applicants in ICANN's forthcoming program for new Top Level Domains (TLDs). Under the agreement, Afilias and RIGHT OF THE DOT will collaborate to help applicants with a wide variety of services needed to successfully apply for and launch a new TLD.
"Afilias has helped launch more new TLDs than any other provider, and has long been recognized as a leading provider of the critical registry services required by ICANN for new TLDs" said Roland LaPlante, Senior Vice President of Afilias. "Many applicants are now developing their business plans and have found the need for additional expertise in areas such as premium name valuation. Monte Cahn and Michael Berkens of RIGHT OF THE DOT are well known valuation experts, and we are pleased to make these expanded resources available to applicants."
"We have worked with Afilias for years and are glad to form this alliance," said Monte Cahn, Co-Founder and President of RIGHT OF THE DOT. "Proper valuation is a critical element in the success of a new TLD, as it helps put the TLD on sound financial footing. With decades of experience in the domain name secondary market, Michael and I can provide fact-based advice on what names might be valuable and how much they may bring. Each TLD will only launch once, and getting this part of the launch right can make the difference between financial success and failure."
Cahn and Berkens are widely recognized as two of the domain industry's most respected valuation and sales experts, and have assisted in the strategy for several previous domain launches and re-launches. They have helped build some of the most successful appraisal algorithms and auction valuation models used in the domain business. Also, they have been central to more than $300 million in domain sales, including some of the highest profile domain sales in history, such as Slots.com, CreditCheck.com, Poker.ca, University.org and Dating.com.
ICANN approved the new TLD program at its current meeting in Singapore and set January 12, 2012, as the date it will begin accepting applications.
Afilias' Global Registry and DNS services power 20 million registrations across 15 TLDs, including five TLDs operating under ICANN contracts. Afilias' new TLD services include a state-of-the-art EPP registry, a globally diverse and redundant Anycast DNS network, 24x7 call-center and technical support, and links to the global distribution channel.
In addition, Afilias provides other premium solutions to augment its registry offerings, including technology to enable mobile phone compatibility for websites and a unique IDN-capable email solution. All Afilias services are DNSSEC and IPv6 ready, and reflect more than 10 years of experience in supporting gTLDs operating under ICANN contracts.
About Afilias
Afilias is a global provider of Internet infrastructure services that connect people to their data. Afilias' reliable, secure, scalable, and globally available technology supports a wide range of applications including Internet domain registry services and Managed DNS. For more information on Afilias, visit http://www.afilias.info.
About Right Of The Dot LLC
RIGHT OF THE DOT is an Internet consulting and advisement firm specializing in new and existing TLD strategy, board advisement, premium domain and market positioning, sales and services. The venture is the brainchild of two successful domain and Internet industry veterans, Monte Cahn and Michael H. Berkens, Esq., who posses a unique combination of vision, leadership and domain expertise. Cahn was the original founder of Moniker.com, a top seven ICANN Accredited Registrar, who went on to head the Aftermarket and Sales Division of Oversee.net. Among other pioneering services, Cahn introduced the concept of Live Domain Auctions to the industry. Berkens, a domain investor with more than 75,000 domains, owns WorldwideMedia Inc., including the retail site MostWantedDomains.com. He founded and contributes to the widely read blog, TheDomains.com. Both principals of RIGHT OF THE DOT are members of the prestigious Domain Hall Of Fame, and are two of only 10 members. This highly qualified consulting group gives you access to the most experienced domain sales and marketing strategists in the industry. They are the only domain industry firm specializing in the many of the critical service offerings required to be successful in the ever-expanding domain industry. See http://www.rightofthedot.com for more information.
For more information, contact:
Vance Hedderel
Afilias
Mobile: +1-703-485-5563
vhedderel(at)afilias(dot)info
Twitter: @afilias
Michael Berkens
RIGHT OF THE DOT LLC
Mobile: +1-954-288-6810
mike(at)rightofthedot(dot)com
###