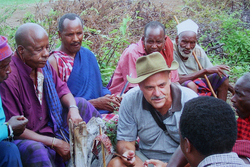 Whether it was an incredible hunting tale or an amusing memory of his childhood, Dr. Arensen never disappointed us.
Houghton, NY (Vocus) December 6, 2010
It was 1946 when Jon Arensen arrived on the African continent with his parents. Growing up in the African bush, he was fluent in the Kisukuma language before he spoke English. He, along with his brother, found adventure in the bush and watched the wild animals -- lions, leopards, hippos, baboons and monkeys -- in their natural habitat. He even helped feed his family with his shooting skills. After attending college in the United States, he returned to Africa to teach, learn more and raise his own family. Since then, he has introduced hundreds of college students to the life and rich culture Africa offers through his captivating storytelling and semester-long trips to Tanzania. Now, Jon Arensen invites you to live the adventure through his memoir, "Drinking the Wind: Memoirs of an African Odyssey."
Arensen's book, to be released in early December, tells the tales of his experiences in Africa -- growing up, dating his wife, raising his children, surveying languages, learning the culture and translating the Bible into the Murle language. Arensen then attended Oxford University where he did his doctoral work on the Murle people -- an ethnic group that resides in Southern Sudan. For the last 15 years, Arensen has taught in the Intercultural Studies department at Houghton College and directs the off-campus program in Tanzania. In his instruction to students, he teaches concepts and principles through the use of stories.
"While I had already heard some of Dr. Arensen's stories in Swahili class, it was around the campfire under perfect stars, sitting on the grass with the fireglow illuminating our intent faces that Dr. Arensen's stories became even more real and exciting," stated Sally Amthor '06 (Morris Plains, N.J.), who traveled to Tanzania with the Houghton program. "…Sitting on African soil hearing true stories of Africa made us forget -- or perhaps disdain -- all the documentaries, reality TV shows and thrillers we had ever watched. Whether it was an incredible hunting tale or an amusing memory of his childhood, Dr. Arensen never disappointed us."
The book came about after years of his students begging him to write down the stories he told in his classes and around the campfire in Tanzania. While on sabbatical recently, he was stranded in the South Pacific. "There's only so much snorkeling you can do," Arensen commented. "So, I went to the general store and bought a notebook." It was there, on the beaches of Fiji and the island of Samoa, that he filled three notebooks full of his life stories.
"Dr. A had a way with words that would captivate," remembered Kyle Horton '07 (Laurel, Del.), also an alumnus of the Houghton in Tanzania Program. "Everyone would sit in silence and just listen for hours, taking turns asking questions that we hoped might prompt another story or memory. Dr. A's stories had a way of taking you back to the wilds of Africa. Listening to him in Tanzania made you feel like you were still there and that the next day you would be forging into the bush and living your own stories. He has an amazing way of making you feel like the world is still at its wild best, waiting to be explored and encountered. I'm so thankful for Bwana Jon; his desire to share the Africa that he loves with students makes the Tanzania program. You could see his joy in sharing his Africa with us."
"When I heard Dr. A was writing a book, I was thrilled," Tanzania alumna Briana Shaffer '09 (Roanoke, Va.) commented. "Like so many of his students, I too pleaded that he would write down his story for the world to read." Now that his memoir is complete, Arensen is working on two other books that tell of Africa in the mid-1900s and influential characters in that part of the world.
Arensen collaborated on parts of the book with his students. He has included pencil drawings by Kendra Inglis '11 (Edmonton, Alberta), and color photos retrieved from his family's collection. Other alumni of the Tanzania program have also participated in the development of the book including Paul Christensen '06 (Houghton, N.Y.), Katrina Lao Shaffner '05 (State College, Pa.), and Sarah Jarvis '09 (Rochester, N.Y.), who took the photo on the cover of the book. The book is published by Old Africa Books and will be available at the Houghton College Campus Store and Amazon.com. Arensen is also the author of "Mice are Men: Language and Society among the Murle of Sudan," a book published in 1992.
His love for Africa is very evident in his memoir, and his adventures come to life in his storytelling. "From physical sickness, car accidents, dangerous animals on hunting trips to building relationships, earning trust, and translating God's word -- whatever the events of the story, Dr. A acknowledged God's steadfast ability to provide for, protect, and shower love on him and his family," Shaffer recalled. "Because of the way that God used Dr. A throughout his life as he traveled from country to country performing a variety of tasks, I'm hopeful that God will use me as well. This hope is all the more secure because of those stories I heard as I sat near the blazing fire looking up at the Tanzanian stars and hearing the testimony of a man who spent his life 'drinking the wind.'"
Houghton offers a faith-based liberal arts education that challenges students to think harder and look deeper -- at their studies, faith, and purpose in life. In turn, Houghton prepares students to live out God's calling with courage, commitment, and conviction. The college of 1,200 students is located in Western New York, just 65 miles from Rochester and Buffalo. For more information, please visit http://www.houghton.edu.
###