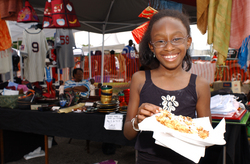 Hampton, Virginia (Vocus) March 27, 2009
This June 26-28, join the Peninsula Association for Sickle Cell Anemia (PASCA) and the City of Hampton as they present the 19th annual Afrikan American Festival. The event, taking place at Mill Point Park in downtown Hampton, will feature live music, arts & crafts, clothing, and ethnic food vendors. No alcohol will be sold at this event.
Over 60 vendors will be on site selling authentic and original black art, artifacts, handmade crafts, and more. For hungry patrons, local and regional food vendors will be selling chicken wings, barbeque sandwiches, fish sandwiches, jerk and curry chicken, lamb and beef gyros, Italian and rope sausage, fresh cut French fries, sunrise fruit, sweet potato pies, and more.
Admission charge to the Afrikan American Festival is a $3.00 donation. As in previous years, proceeds gathered from the Afrikan American Festival will help support the Peninsula Association for Sickle Cell Anemia. Hours for this year's event are
4:00 p.m. - 10:00 p.m. on Friday June 26, 11:00 a.m. - 10:00 p.m. on Saturday June 27, and 2:00 p.m. - 5:00 p.m. on Sunday June 28.
Established in 1972, PASCA provides leadership on a local level to create public awareness of this serious hereditary blood disease that affects mainly people of black ancestry, but has been found to occur in Greeks, Italians, Arabians, Sicilians, and Turks. The Peninsula Association not only distributes educational materials about the disease, but also encourages screening programs and genetic counseling. Sickle Cell Anemia occurs in one out of every 400 black births.
More information on the Afrikan American Festival can be obtained by contacting the Hampton 311 Call Center at 757/727-8311. Free parking is available throughout downtown Hampton.
Partially bordered by the Hampton Roads harbor and Chesapeake Bay, Hampton, with the 344,000 sq. ft. Hampton Roads Convention Center, is located in the center of the Hampton Roads metropolitan area. Hampton is the site of America's first continuous English-speaking settlement and is home to such visitor attractions as the Virginia Air & Space Center and Riverside IMAX ® Theater, the Cousteau Society, Hampton History Museum, harbor tours and cruises, Hampton University Museum, Fort Monroe, award-winning Hampton Coliseum, The American Theatre, among others. Hampton was twice-named All-America City, the nation's oldest and most prominent community recognition award.
Contact:
Ryan LaFata, 757/728-5328
Alton Blackley, 757/817-6513
# # #