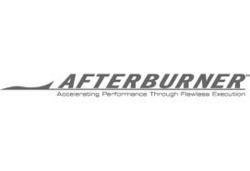 "With our Houston location, we can reach even more organizations and help them discover more efficient ways to Plan, Brief, Execute and Debrief throughout all projects, motivating their staff and executing mission objectives flawlessly," said Horton.
Atlanta, GA (PRWEB) October 16, 2012
Afterburner Inc. (Afterburner), a team of 50 Fighter Pilots/U.S. Navy SEALs/Elite Military Professionals, has opened its first office in Houston, Texas under the leadership of former Rear Admiral Ron "Beav" Horton. With over 30 years of distinguished military service, Horton will lead the Safety, Energy, Oil & Gas, and Mining Sectors of Afterburner to further leverage existing relationships with giants in the industries, and will better serve Fortune 500 companies headquartered throughout the city. Afterburner boasts an outstanding track record, training more than 1.5 million business professionals leveraging its military-inspired methodology, Flawless Execution℠.
A graduate of the United States Naval Academy and the Navy's prestigious Nuclear Power Program, Horton was selected for rank of Rear Admiral and command of an operational task force, becoming the senior U.S. naval officer based in Southeast Asia. Horton also commanded the world's first nuclear powered aircraft carrier, the USS ENTERPRISE, when the ship was distinguished with numerous awards including the coveted Battenburg Cup signifying Fleet Forces "Ship of the Year". He also serves as the first executive vice president of Afterburner's Safety and Leadership Development sector.
"Ron is the perfect leader for our new Afterburner office in Houston," said Jim Murphy, CEO of Afterburner. "The wealth of experience Horton brings to Afterburner, from his extensive military experience to his more recent work dealing with some of the world's largest oil companies, will enable him to understand and implement our Flawless Execution model within all of the organizations he will mentor."
Leading Afterburner's Safety and Leadership Development program, Horton knows failure is not an option, as even small errors—in training or in operations—can be disastrous and expensive for organizations. Through developing highly reliable leaders and teams to be "brilliant at the basics" good organizations will be propelled to greatness.
"With our Houston location, we can reach even more organizations and help them discover more efficient ways to Plan, Brief, Execute and Debrief throughout all projects, motivating their staff and executing mission objectives flawlessly," said Horton. "The experience I have gained working with Afterburner prior to moving to Houston allows us to hit the ground running and start building recognition for Afterburner in the local business community."
BRAND FOCUSES ON ELITE VETERANS AS FRANCHISEES TO TEACH MILITARY TACTICS THAT INSPIRE BUSINESS EXECUTION
In addition to Afterburner's Houston office opening, they also announced the Afterburner Network, launched in August 2012, intends to award up to four Network Franchises in the Houston market. The franchise model takes Afterburner's core methodology and brings it to the local level, expanding the brand's reach to a wider scope of business leaders. Franchisees will be taught the Flawless Execution model to help businesses with team building, with a primary focus on transforming strategy into action and accelerating performance on every level of a company's structure. Through this work, the Afterburner Network will assist military veterans by equipping them with the tools and techniques to continue their life of service and accomplish missions on the corporate battleground.
Over the next five years, the company plans to expand its network to more than 50 highly-motivated, elite current and former military servicemen and women. Afterburner is looking for entrepreneurial candidates who strongly believe in the core values of the military and how these values can be used to enhance the processes of daily life. They have specifically targeted the Houston market as a potential center of gravity for potential Network candidates.
"Afterburner has built something very special over the past 16 years and has earned its reputation by training every level of a corporation and developing processes for strategic planning and debriefing systems," Murphy said. "Our network franchisees will utilize the same strength and focus when applying these proven tactics to local businesses. Through our team building practices, we will help companies gain focus, increase sales, strengthen their core and prepare for future business growth."
Each Afterburner franchise costs entrepreneurs $50,000 plus royalties, which includes a network territory of at least 200 companies that earn more than $50 million per year. Each franchisee is guaranteed an exclusive marketing territory, and is equipped with Afterburner's training, processes, support and intellectual property. The system delivers a clean return on investment that motivates and inspires companies to align their organization's objectives in a scalable process. With experiential training, team building, continued consulting and Military Transitioning placement services, Afterburner provides its network partners with a system that generates continued means of residual income.
ABOUT AFTERBURNER NETWORK
Afterburner is a group of elite military professionals and fighter pilots who train leaders to utilize Flawless ExecutionSM to accelerate performance and close execution gaps. Much like the world of combat, the ability to survive, thrive, and win in today's hostile business environment is critical. With a proven track record of success, Afterburner is skilled in creating ROI for individuals, teams, and organizations around the world. Nationally recognized for their high energy, inspirational keynotes and experiential corporate teambuilding programs, the Afterburner Network will connect like-minded veterans with local businesses to sell services and drive Flawless Execution℠. For more information about the Afterburner Network, please visit http://www.network.afterburner.com.
###