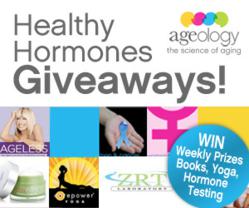 "The Healthy Hormones sweepstakes encourages and educates men and women to improve quality of life, vitality and longevity by taking a proactive approach to their own health with nutrition, fitness and balanced hormones, said Ageology CEO Dr. Paul Savage
Chicago, IL (PRWEB) September 18, 2012
Chicago-based Ageology, a 22 physician network specializing in bioidentical hormone therapy and age management, announced a promotion on its Official Ageology Facebook Page http://www.facebook.com/ageology. Focused on the importance of nutrition, fitness and balanced hormones from the inside out, Ageology's Healthy Hormones Sweepstakes is a month long series of weekly giveaways including healthy aging books, yoga memberships from Core Power Yoga, Anti-Aging skin care treatments from VenEffect and Comprehensive Hormone Evaluation Tests provided by ZRT Laboratory.
Chronic diseases such as diabetes, obesity and heart disease are among the top leading causes of death in the United States and Chicago's Ageology physicians are sponsoring a sweepstakes in an effort to spread the word on ways men and women can empower themselves with healthy and restorative resources.
"The Healthy Hormones sweepstakes encourages and educates men and women to improve quality of life, vitality and longevity by taking a proactive approach to their own health with nutrition, fitness and balanced hormones, said Ageology CEO Dr. Paul Savage, a leading expert on bioidentical hormone therapy and expert source in Suzanne Somers NY Times bestseller Ageless.
The Ageology sweepstakes details
Five (5) Grand-Prize winners will win a Comprehensive Hormone Evaluation Test and report of tested hormone lab levels provided by ZRT Laboratory. The tests include sex hormones (estrogens, progesterone, testosterone, DHEA-S, cortisol and sex hormone binding globulin), thyroid function (TSH, Free T3, Free T4, TPO) and gender specific testing (FSH for women and LH and PSA for men). Retail Value of approximately $750.00. The winners will be contacted and a testing kit shipped from ZRT labs directly to the winners. The results and their report will be sent directly to the winners. The test comes with an interpretation of the results provided by ZRT.
There will be four (4) weekly drawings for four (4) runners-up prizes each week to award at total of sixteen (16) runners-up prizes.
Four (4) one-month memberships to CorePower Yoga (approximate retail value of $139 each)
Four (4) VenEffect Anti-Aging Intensive Moisturizers (approximate retail value of $185 each)
Four (4) copies of The Pursuit of Hormone Happiness (approximate retail value of $22.99 each) or Ageless by Suzanne Somers featuring Dr. Paul Savage (approximate retail value of $25.79)
Four (4) copies of Top 10 Doctors in North America Anti-Aging Secrets (approximate retail value of $29.97 each)
Launched in February 2012, Ageology is the concept of Dr. Paul Savage a bioidentical hormone therapy expert. He is a published author and contributor to Suzanne Somers' New York Times bestseller Ageless. Ageology is an organization designed to match patients looking for top-notch age management care with qualified healthcare professionals in the Chicago area. Ageology's physician network includes 20 bioidentical hormone therapy physicians in the Chicago market with future markets expected to open in other metropolitan areas.