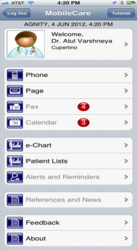 AGNITY was chosen for creating outstanding advancements in communications for Healthcare
Silicon Vally (PRWEB) September 11, 2012
AGNITY, a global application solutions innovator, announced today that TMC, a global, integrated media company, has named AGNITY MobileCARE™ as a recipient of a 2011 Communications Solutions Product of the Year Award.
MobileCARE™ is a SaaS based solution that harnesses the power of mobile and Internet technologies to enable clinicians and healthcare providers to use smartphone and tablets to manage secure communications and collaboration with real-time patient context. It bridges the gap between today's communications IT and Healthcare IT silos. By integrating Voice, Video, Page, IM, SMS, Alerts, E-mail, Presence, Calendaring and Contacts, MobileCARE™ enhances communication and productivity for nurses, doctors and administrators and in-turn, enables hospitals and medical groups to deliver better and more cost-effective care. It's fully HIPAA compliant and can seamlessly integrate with healthcare systems including EMRs, CPOEs, Labs and all HIS. MobileCARE™ is optimized for secure deployments on premise or in the Cloud and is supported on multiple popular mobile smartphone and tablet platforms and operating systems.
"We're delighted to receive this award from the team at TMC," said Ken Epps, President of AGNITY Healthcare. "AGNITY Healthcare is driven by the underlying principle that reaching the right people at the right time with the right information saves time, money and lives. Feedback from healthcare providers using MobileCARE™ continues to reinforce the benefits their clinicians are realizing in terms of convenience, ease of use and faster decision making".
"AGNITY was chosen to receive a 2011 Product of the Year Award for creating outstanding advancements in communications for Healthcare," said Rich Tehrani, CEO, TMC. "AGNITY MobileCARE™ has proven benefits for its customers and provides ROI for the hospitals that use it. Congratulations to the entire team at AGNITY. I look forward to more innovative solutions from them in the coming year."
The Communications Solutions Product of the Year Award recognizes the vision, leadership, and thoroughness that are characteristics of the prestigious award. The most innovative products and services brought to the market from March 2011 through March 2012 were chosen as winners of the Communications Solutions Product of the Year Award.
The 2011 Communications Solutions Product of the Year Award winners are published on the INTERNET TELEPHONY and Customer Interaction Solutions Websites.
About AGNITY Inc.
AGNITY Healthcare is a leading provider of applications and services that harnesses the power of mobility and the Internet to improve access and the quality of healthcare. AGNITY Healthcare solutions deliver the freedom of healthcare on demand by connecting patients, doctors, payers and hospitals anytime, anywhere. By helping healthcare scale to reduce costs, expand capacity, and improve productivity of healthcare delivery, AGNITY Healthcare helps improve patient care and the patient-provider relationship.
AGNITY is a global application solutions and technology services company dedicated to help businesses, network equipment manufacturers, and service providers by designing, developing, and deploying application solutions rapidly and cost-effectively.
With locations in Silicon Valley, Richardson (Texas), Toronto (Canada), and Noida (India), AGNITY is a unique company providing global support exclusively on application design, solution development, and application migration and deployment.
For more information, visit http://www.agnity.com and http://www.agnityhealthcare.com
About TMC
TMC is celebrating its 40th anniversary as a global, integrated media company that helps clients build communities in print, in person, and online. TMC publishes the Customer Interaction Solutions, INTERNET TELEPHONY, Next Gen Mobility, and Cloud Computing magazines. TMC is the producer of ITEXPO, the world's leading B2B communications event. TMCnet.com, which is read by two million unique visitors each month, is the leading source of news and articles for the communications and technology industries. In addition, TMC runs multiple industry events: Cloud Communications Expo; Cloud4SMB Expo; CVx (ChannelVision Expo); DevCon5; HTML5 Summit; LatinComm Conference & Expo; M2M Evolution Conference & Expo; Mobility Tech Conference & Expo; MSPAlliance MSPWorld; StartupCamp; Video World Conference & Expo and more.
For more information about TMC, visit http://www.tmcnet.com.
AGNITY®, the AGNITY® logo, MobileCARE™ and combinations thereof are trademarks of AGNITY, Inc. in the United States and other countries. Other names, logos, brands, and trademarks listed or referred to are the property of their respective trademark holders. The trademark holders are not affiliated with AGNITY, Inc. and do not sponsor or endorse these materials or its products. All rights reserved.
AGNITY Contact:
Media Relations Team
media_relations(at)agnity(dot)com
(510) 270-5412
AGNITY, Inc.
http://www.agnity.com
TMC Contact:
Jan Pierret
Marketing Manager
203-852-6800, ext. 228
jpierret(at)tmcnet(dot)com