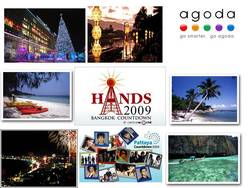 Bangkok, Thailand (PRWEB) December 24, 2008
To get in on the Christmas spirit and celebrate the coming new year, Agoda.com, an online hotel reservations service, is offering customers a number of unbeatable, last-minute Thailand hotel deals. To boost tourism Thailand hotels have begun to slash their rates, even during this normal "peak period". Agoda is now able to offer further savings of up to 40% off these already discounted rates.
Thailand's amazing scenery and hospitality makes it a great choice anytime for winter holidays. With colorful countdown activities occuring throughout Thailand ready to welcome 2009, it is the perfect time to visit the "Land of Smiles". 'Hands Bangkok Countdown 2009' is the city's biggest celebration. Held on the Rajaprasong shopping street, the event is a massive street-party where Thais and foreigners ring in the new year together. Attractions include a live concert featuring Thailand's top singers, celebrities and superstars together with many other entertainment activities and fireworks.
Just south of Bangkok, Pattaya Countdown 2009 welcomes tourists with live concerts featuring various famous recording artists and is capped with a huge fireworks display at midnight. In the cooler north, Chiang Mai showcases various musical and entertainment acts, stretching throughout Tha Phae road and Tha Phae gate. The beaches of Samui and Krabi offer southern, more relaxed fair, as locals and tourists alike welcome 2009 on Thailand's famous sands.
Mr. Fan Wilfred, Agoda's Vice President of Business Development says, "Countdown events in Thailand are becoming increasingly popular. It provides a common arena where both Thais and foreigners can celebrate together. And it's not just occurring in Bangkok but many well known areas throughout Thailand are make preparations to ring in the New Year. To help celebrate Christmas and New Year, Agoda has managed to secure last minute allotments with special rates for various hotels in Thailand's hottest spots"
Samui
Bandara Resort & Spa, Samui] - 5 Star at USD 129 (normally USD 224)
New Star Beach Resort, Samui - 4.5 Star at USD 190 (normally USD 329)
Krabi
SALA TALAY Resort & Spa, Krabi] - 4 Star at USD 146 (normally USD 253)
Railay Bay Resort, Krabi - 4 Star at USD 183 (normally USD 318)
Hua Hin
Worabura Resort and Spa, Hua Hin -5 Star at USD 207 (normally USD358)
Veranda Resort and Spa, Hua Hin - 4 Star at USD 99 (normally USD 172)
Pattaya
Siam Bayshore Resort and Spa, Pattaya - 4 Star at USD 145 (normally USD251)
Nusa Playa Hotel and Spa, Pattaya - 4 Star at USD 106 (normally USD184)
Chiang Mai
Veranda Chiang Mai - 4 Star at USD 154 (normally USD 288)
Bangkok
Grand Millennium Sukhumvit, Bangkok - 5 Star at USD 104 (normally USD139)
Siam City Hotel, Bangkok - 5 Star at USD73 (normally USD 98)
Tenface Hotel, Bangkok - 4 Star at USD72 (normally USD 93)
Majestic Grande Hotel, Bangkok - 4 Star at USD 63 (normally USD95)
For more information regarding Agoda, please visit the website at http://www.agoda.com or contact the Agoda customer service team via telephone at +66 2 625 9100 or e-mail at info@agoda.com
Note to Editors
About Agoda Company:
Agoda (agoda.com) is an online hotel reservations service which specializes in securing the lowest discount hotel prices in Asia. Agoda is part of Priceline.com (Nasdaq:PCLN). Agoda's network includes 8,290 hotels in Asia and more than 49,700 worldwide. The staff of approximately 300 professionals, located throughout Asia, provides a first-rate reservation service that uniquely combines local knowledge and local connections to provide the best hotel deals to both business and leisure travelers.
In addition, Agoda customers participate in the Agoda Rewards Program, earning further discounts and free stays. Unlike programs that limit travelers to a single chain, the Agoda Rewards Program allows customers to redeem Rewards Points at thousands of hotels around the globe, at any time. A member of the Pacific Asia Travel Association (PATA), Agoda's aim is to promote travel by making it more affordable and more accessible to more people.
# # #