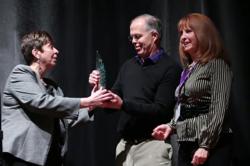 We realized that we could manage a successful business while still providing optimal care for our patients.
Philadelphia, PA (PRWEB) March 19, 2013
Presented at the 18th annual Convention this past February in Las Vegas, Tina Soika, AHAA's President, touched on the achievements of each practice in demonstrating the theme of the event – Choosing to Succeed. By deliberately making the choice to succeed, regardless of the state of the economy or increased competition, each award winner realized their true business potential.
John Miles, Au.D. and Janet Snyder-Miles, Au.D., owners of Hear Well Audiology, were given the top honor of the evening, the President's Award. The husband and wife team's hard work combined with their dedication in following AHAA business methodologies lead to an incredible year-over-year growth of 79% from 2011 to 2012.
"When we first started, we didn't have any business training, explained Dr. Miles. "Eventually, we were rescued by AHAA and soon after realized that we could manage a successful business while still providing optimal care for our patients, despite our backgrounds."
The Growth Award was given to Dr. Wendy Smith, MD of E.N.T. Solutions and owner Clay Smith whose success was recognized for their 103% rate of year-over-year growth from 2011 to 2012. "The personal growth for me and our employees is what makes me most proud," stated Clay. "Our combined hard work has made us all better people."
Dr. Alison Hoffmann and Dr. Amy Sapodin from Advanced Hearing Center were given the Leadership Award for their exceptional performance in moving their practice forward. The Organizational Development Award, which recognizes exceptional commitment in training, was presented to Dr. Laura Day of Harbor Audiology and Hearing Service. Lastly, the "All The Right Things" Award was given to Dr. Sara Nagel from Center of Audiology for her outstanding achievement in implementing and utilizing AHAA's All The Right Things business model.
The winners were interviewed during the Convention to share details on their personal approaches in establishing and maintaining a successful practice, and how AHAA has helped them achieve their levels of success. Those videos can be seen on AHAAconvention.com, AHAA's Convention website.
About American Hearing Aid Associates (AHAA)
AHAA represents the nation's highest quality and most accessible hearing health care network comprised of professional audiologists, hearing aid dispensers, otolaryngologists, hospitals, and universities across the country. AHAA aims to raise the quality of hearing health care throughout America by continual evaluation and upgrading of the educational standards and technical expertise of our hearing Associates.