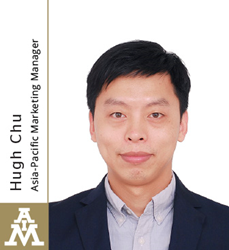 Shenzhen, Guangdong, China (PRWEB) July 27, 2018
AIM Solder, a leading global manufacturer of solder assembly materials for the electronics industry, is pleased to announce the addition of Hugh Chu as the Marketing Manager for the Asia-Pacific Market.
Hugh has been in marketing for the metals industry for over 13 years, and will serve as a main link between AIM Solder's corporate Marketing, Technical Support, Sales, and the Asia-Pacific market, particularly China. He will also be responsible for executing marketing strategies and tactics that drive growth in our Asia-Pacific Market, while helping the overall brand development and messaging in the marketplace.
"We are excited for Hugh to join the AIM team," said AIM's Global Marketing Director, Kelly Cardone. "His integrated marketing experience and skill set around modern, scalable marketing methods will allow us to capitalize on the strength of the AIM brand as we continue to innovate and grow, especially in the Asian market. This is a very important and exciting hire for the company as we continue to expand our global footprint."
Upcoming Events:
August 16, 2018 – SMTA Queretaro Roundtable – Queretaro, Mexico
August 23, 2018 – SMTA Capital Expo and Tech Forum – Laurel, MD
August 27-30, 2018 – SMTA China South Technology Conference – Shenzhen, China