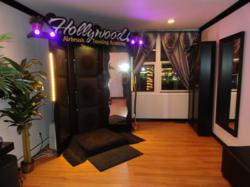 The newly renovated location will help with the expansion of the academy.
Los Angeles, CA (PRWEB) June 26, 2013
Hollywood Airbrush Tanning Academy has just shifted their office from 3760 Cahuenga Blvd. West, Suite 202, Studio City/Universal City, CA 91604 to 12500 Riverside Drive, Suite 213, Studio City/Valley Village, CA 91607. This Southern California based academy needs little introduction in the American beauty and wellness industry. Since the formation of the academy approximately two and a half years ago, Hollywood Airbrush Tanning Academy has helped many aspiring airbrush tanning professionals to start their career as a professional spray tanning technician. The academy is owned and managed by renowned airbrush tanning expert Simone Emmons.
Airbrush tanning is now considered to be the most preferred form of tanning due to an increased public awareness about the ill effects of traditional tanning. Hollywood Airbrush Tanning Academy has emerged as the leading academic destination in the country that offers a hands-on certification program on spray tanning. In addition to classroom training sessions, the academy also offers training via video conferencing for students who can not travel.
When asked about her move to a new office, Simone said, "The newly renovated location will help with the expansion of the academy. This new office is very conveniently located close to North Hollywood and right next to Sherman Oaks, California and has a larger office space compared to my previous office." She also mentioned that she expects the location of the office to be a great advantage for her training academy.
About Hollywood Airbrush Tanning Academy:
Hollywood Airbrush Tanning Academy is located in Los Angeles, California and offers an extensive Airbrush Tanning Certification program to anyone who wishes to learn the art and business of spray tanning. Simone Emmons, the creator of the spray tanning training program has been a professional, licensed spray tanning technician and teacher and has helped numerous entrepreneurs from Utah, Colorado, Nevada, Minnesota, Arizona, South Carolina, North Carolina, Washington, Oregon, Florida, Oklahoma, Alaska, California, Canada and the Island of Hawaii and Trinidad start a business in Airbrush Tanning. The spray tanning program is unique because it provides hands-on and private spray tanning training to individuals who want to start an Airbrush Tanning Business. According to Emmons, this spray tanning program gives individuals a leading edge in starting an Airbrush Tanning business immediately after finishing with the training. Students have the option to choose from a full day course of 10-12 hours or two half day courses of 5-6 hours a day or through live video conferencing. The academy is also launching a website soon so students can learn Airbrush Tanning Online. Many tanning training institutions only educate students on their own equipment and products they sell, however Hollywood Airbrush Tanning Academy does not sell any of their own products and provides training and education on all equipment and good products in the airbrush tanning industry. Recently, the academy added an additional trainer to hold airbrush tanning classes on the East Coast. Weekly classes are now also available in Charlotte, North Carolina and Lewisburg, West Virginia.
Individuals interested in learning and starting a career in airbrush tanning should visit the website at HollywoodAirbrushTanningAcademy.com or for more detailed information about the airbrush tanning classes visit 1DayAirbrushTanningTraining.com.