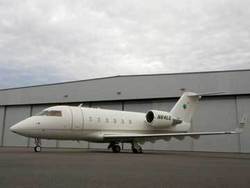 Los Angeles, California (PRWEB) February 19, 2009
TWC Aviation, Inc., a worldwide leader in aircraft management and jet charter, has added a Bombardier Challenger 601-3A to its aircraft management portfolio. This is TWC Aviation's third Challenger Series jet. With a range of 4,100 nautical miles and cruising speed of 433 knots, this luxurious, twelve-passenger jet is ideal for business or personal international charters. Also joining the fleet is the company's second Learjet 60, a beautiful eight-passenger aircraft with a range of 2,451 nautical miles and speeds up 423 knots. It is an excellent choice for fast, cost-efficient, cross-country air charter journeys.
The Challenger 601-3A has a distinctive light tan exterior with discreet brown striping. Inside, passengers can relax in the tan premium-leather executive chairs or on the wonderfully comfortable three-place divan. Amenities include an Aircell flight phone, Airshow, data port, CD player, microwave oven, and enclosed lavatory.
The Learjet 60's striking exterior is white and dark blue, while the interior features deep-blue leather chairs complemented by highly polished dark wood. Among the amenities are an Aircell phone, Airshow, CD/DVD port, and enclosed lavatory
As with all the jets in TWC Aviations jet charter fleet, these aircraft are equipped with the latest safety technologies, and maintained to FAA standards by the company's in-house experts.
About TWC Aviation, Inc.
Headquartered in Los Angeles at Van Nuys Airport, TWC Aviation, Inc. is a privately owned, independent company that provides aircraft management, aircraft sales and acquisitions, worldwide jet charter, and aircraft maintenance services. Founded by internationally known entrepreneur Andrew Lessman, TWC Aviation is FAA-authorized to fly anywhere in the world, and is independently audited and approved by ARG/US Platinum and Wyvern Consulting, Ltd. TWC Aviation's diverse charter fleet includes jets from Bombardier, Cessna, Gulfstream, and Hawker Beechcraft. Managed aircraft are currently based in California at Van Nuys, Santa Ana, Oakland, Hayward, and San Diego (Carlsbad and El Cajon), as well as in Las Vegas, Phoenix, Washington D.C., and Hong Kong. Additional information is available online at http://www.twcaviation.com.
###