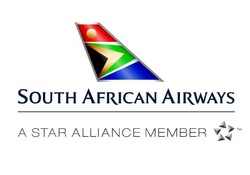 Best Airline Based in Africa
FORT LAUDERDALE, Fla. (PRWEB) August 26, 2008
The awards are recognized around the world and the survey is renowned for being a truly global, independent passenger survey of airline standards, with an estimated 15 million passengers interviewed worldwide. The Skytrax™ survey measures over 35 different aspects of passenger satisfaction for an airline's product and service standards, so it is a key indicator of passenger satisfaction levels for airlines around the world.
SAA has also been recognized recently as "Best Airline to Africa" by Executive Travel Magazine and Weekly Globe Awards, "Best Airline Based in Africa" by OAG and "Africa's Leading Airline" by World Travel Awards, further solidifying SAA's position as Africa's most awarded airline.
"We continue to be honored by the fact that our customers and industry colleagues are recognizing our efforts to offer the best service to Africa," said Marc Cavaliere, executive vice president, North America for South African Airways. "One can't go wrong by working tirelessly to improve one's service and offerings, and we continue to work to that end."
South African Airways recently upgraded its in-flight entertainment content on its A340-300 and -600 aircraft, increasing the number of movies available to watch on board to 44 from approximately 15.
The movies range from global blockbusters to more culturally diverse options that include South African and Hindi choices. A number of channels with TV programs and music from many different genres round out the offerings. The A340-600 and -300 aircraft, respectively, operate SAA's service from Washington and New York to Johannesburg. Each seat on board, whether in premium business class or economy class, includes a personal, on-demand entertainment system with the full range of upgraded content. Add to that the "best cabin crew," great food, complimentary South African wine, plus amenity kits in each seat, and SAA is the clear choice for service to Africa.
South African Airways features the only nonstop service from the U.S. to South Africa with daily departures from Washington, D.C., and daily direct service from New York that offer travel convenience and award-winning service. Travelers in premium class enjoy 180° fully flat-bed seats with individual entertainment systems, and in economy class enjoy the most legroom versus competitors and individual on-demand entertainment systems. SAA's unrivaled network, featuring connections to more than 20 destinations within South Africa, and more than 20 cities across the rest of the continent, make the airline the savvy traveler's "gateway to Africa." As a Star Alliance member, South African Airways is able to offer its customers 975 destinations in 162 countries and 18,100 flights daily, including convenient connections from more than 30 cities in the U.S. through code share service with Star Alliance member United Airlines. Members of United's Mileage Plus, US Airways' Dividend Miles and Air Canada's Aeroplan programs are able to earn and redeem miles on all SAA flights. For more information on South African Airways, please call (800) 722-9675 or visit http://www.flysaa.com, where travelers can sign up to be notified of other great travel deals and vacation packages.