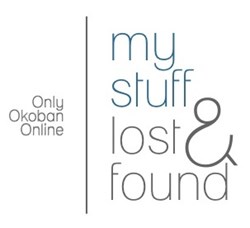 Now, with Okoban and mystufflostandfound.com any lost cell phone or other valuable can find its owner. Often, the lost valuable finds the owner before the owner realizes the item is lost.
Atlanta, GA (PRWEB) March 12, 2013
Airport security is important but can be stressful. Following these simple guidelines from mystufflostandfound.com will streamline the process to get travelers and their belongings quickly and securely on their way and a global lost and found service if any valuables become lost.
Be Prepared
1. Avoid wearing clothes with snaps, metal buttons, or loose fitting clothes or headgear that could potentially conceal a weapon.
2. While waiting in line, remove piercings, belt buckles, watches, bracelets, change, keys and any other metal items. Temporarily store them in a carry-on bag.
3. Shoes still need to be removed at security. Slip-ons are faster and easier.
4. Know the 3-1-1 Rule for liquids: 3.4 ounce (100ml) bottle or less; 1 quart-sized, clear plastic, zip-top bag; 1 bag per passenger placed in screening bin.
5. Medications are not subject to the 3.4 ounce (100 ml) limit but should be easily accessible for inspection.
6. Check ahead with TSA about questionable items (see "valuable contacts" below).
7. Have a government issued photo ID and boarding pass in-hand before entering the security line.
8. Security rules vary overseas. Be respectful and calm.
Laptops and Other Electronics Need Extra Protection
1. Special "checkpoint-friendly" laptop bags (no metal, x-ray friendly) eliminate the need to remove the laptop at checkpoints.
2. Security may request that laptops and other electronics be turned on to demonstrate that they function normally so batteries should be kept charged.
3. Protect laptops and electronics from loss with Okoban® tracker tags available from mystufflostandfound.com
Protect Valuable Against Loss with Okoban
1. Travelers are more likely to lose things. More than 12,000 laptops are left behind at airport security checkpoints every week in the U.S. alone. Unfortunately, less than one-third of these are returned because finding the owner is just too difficult.
2. Almost all "lost" items get found by someone. Most finders, including the TSA, will return the items if there is a secure, simple way to connect to the owner. Okoban does this.
3. For just a few dollars, Okoban's global lost and found service adds protection and security for laptops, phones, keys, cameras, passports, credit cards, luggage and other valuables and is available at http://www.mystufflostandfound.com.
4. Okoban tracker tags from mystufflostandfound.com connect finders with owners quickly, securely and privately, anywhere in the world. Finders simply enter the tracker tag's Unique Identification (UID) code and the recovery location on the Okoban website. The system then immediately notifies the owner, anywhere in the world, with a secure email and text message of the found valuable and its recovery location.
5. "Now, with Okoban and mystufflostandfound.com any lost cell phone or other valuable can find its owner," says Gordon Burns, CEO of My Stuff Lost and Found. "Often, the lost valuable finds the owner before the owner realizes the item is lost," says Burns.
6. Okoban is the only property registration system linked to the airline industry tracing system used by over 400 airline companies in over 2,200 airports worldwide. They are directly linked to the SITA/IATA World Tracer system. WorldTracer is the world's leading automated service for tracing lost and mishandled baggage and property.
Traveling with Children
1. Take children out of baby carriers before getting to the metal detector.
2. Children twelve and under can leave their shoes on during screening.
3. Traveling with children is especially hectic. Protect valuables from loss with Okoban tracker tags from mystufflostandfound.com
Plan Ahead
1. Use Internet resources to keep track of schedule changes and security wait times.
2. Communicate with TSA personnel if you have equipment or a condition that require special consideration. Discreet "Disability Notification Cards" are available from TSA.
3. Turn off any electronics that might distract from the screening process.
4. The shortest line isn't always the best option. Look for the fastest moving line.
5. Travelers that qualify for special programs can streamline the security process. Google "Global Entry", "Trusted Traveler Programs", "TSA Pre-Check Program" and "Frequent-Flyer Programs".
Valuable Contacts
1. Okoban's global lost and found service. Worldwide protection and security for laptops, phones, keys, cameras, passports, credit cards, luggage and other valuables. Online sales website: http://mystufflostandfound.com
2. SMS and email notifications of flight status link: flightstats.com
3. Wait times at airports link: waittime.tsa.dhs.gov
4. TSA Contact Center: 1-866-289-9673| Email: tsa-contactcenter(at)dhs(dot)gov | Website: tsa.gov/
5. TSA mobile app "MyTSA" for iPhones provides answers to common questions and airport information such as flight delays.
6. TSA's pre-check program: tsa.gov/tsa-pre%E2%9C%93%E2%84%A2
7. Trusted Traveler Programs: cbp.gov/xp/cgov/travel/trusted_traveler/
My Stuff Lost and Found, founded in 2012, provides convenient worldwide online sales and service of Okoban's sturdy tracker tags for laptops, phones, tablets, passports, luggage, cameras, pets and other valuables. Mystufflostandfound.com is the online gateway to Okoban's tracking service for valuables and free global lost and found service for life. Purchase Okoban online at http://www.mystufflostandfound.com