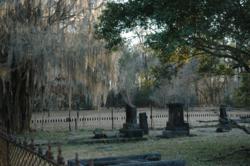 Montgomery, Ala (PRWEB) September 27, 2012
Visitors can experience Alabama's haunted history in October with ghost trails, story-telling festivals and ghost walks.
A variety of events and trails pay homage to the state's ghostly history including a rare moonlit tour of the famous ghost town Old Cahawba where paranormal investigators will showcase their ghost hunting equipment. In Montgomery a mortician will take you on a tour of Oakwood Cemetery in a hearse. The Black Belt Ghost Trail showcases dozens of haunted sites that include homes, restaurants, cemeteries and Civil War sites.
The Alabama Tourism Department offers the following list of 13 ghostly events taking place this month across the state.
Athens
7th Annual "Historic Haunts Walk" — Oct. 2, 9, 16, 23, 30
This annual Historic Haunts Walk, held each Tuesday night in October, begins at the Athens Visitors Center and includes tales of paranormal activity at 13 local structures. Hear about the college student who fell to her death and is said to still wander the halls at Athens University Founders Hall. Each walk is approximately 90 minutes. The first walk begins at 6:30 PM followed by the second walk at 7:00 p.m. Advanced tickets ($5 each) are required. For more information contact Athens-Limestone County Tourism 256.232.5411 or Jeanette(at)visitathensal(dot)com.
Beatrice
Ghost Stories at Rikard's Mill— October 12-13
Enjoy a pumpkin toss, pumpkin painting and relay race before gathering around a bonfire to listen to spine-chilling ghost stories at the historical Rikard's Mill. The Haunted Swamp Trail will be open for those brave enough to wander its scary path from 6:30 – 10 p.m. each evening. Admission is $5 per person. Contact the Monroe County Heritage Museum at 251.575.7433 for more information.
Black Belt Ghost Trail– Self guided, year-round
Visit Alabama's Black Belt Region to tour the popular ghost trail. The self-guided tour will take you to dozens of sites in three counties (Dallas, Perry, Wilcox) and includes restaurants, hotels, cemeteries, and homes. A brochure provides a map and the haunted history of each stop on the tour. The trail also includes a site for visitors to view videos detailing the ghost stories. http://www.youtube.com/user/AlabamasGhostTrail. For brochures and more information:
http://www.alabamasfrontporches.com 334.636.5506 or 334.636.0120 Linda Vice.
Demopolis
Tombigbee Haints and Haunts— Oct. 26 & 27
Participants will hear ghost stories, the coffin maker's tale and more on this tour to the darker side of Demopolis. Local story tellers will share folklore and facts about the Tombigbee River and early inhabitants of the area. Tours start at 7, 8, 9 and 10 p.m. and are $15. Seating is limited for each tour. Call 334.289.9644 for more information.
Florence
10th Annual Haunted History of the Shoals Ghost Walk— Oct. 19-31
Participants will stroll the downtown Florence historic district with a local tour guide and author Debra Johnston Glass. Participants will be entertained with stories steeped in legend, folklore and truth. The tours cover a one mile area and last approximately 90 minutes. They begin at 7:30 p.m. at the W.C. Handy statue in Wilson Park. Tickets: $10 adults, $8 for children12 and under. Contact Debra Glass, 256.757.7506, http://www.discovertheshoals.com.
Huntsville
Ghost Walking Tour – Fridays/Saturdays in October
Visitors have three tours to choose from and they run simultaneous. Participants will hear stories of Huntsville's haunted past while walking along the Old Town Historic District. The Haunted Downtown Historic District offers a one hour trolley tour through Huntsville's haunted past. Another option is the Twickenham Historic District. Reservations should be made in advance by purchasing tickets at Harrison Brothers Hardware Store at 124 South Side Square. Adult tickets are $12 and children 10 and under can ride for $10. Seating is limited. All tours begin promptly at 6 p.m. The walking tours take place on Friday nights and Saturday nights. Trolley tours will be offered only on Saturday nights. Tickets for the walking tours are $8 for adults, $6 for children 12 and under. Call 256.509.3940 or visit http://www.huntsvilleghostwalk.com for more information.
Huntsville
Cemetery Stroll— Oct. 14
The annual Maple Hill Cemetery Stroll will take place on Sunday, October 14 from 2 to 4 p.m. This event, which is free to the public, features over 70 locals dressed in period costume to tell the story of people buried at Maple Hill Cemetery. Maple Hill is the final resting place of five Alabama governors, the man who ordered the first shot fired at Ft. Sumter, the man who announced Alabama's withdrawal from the Union, and many more. Donations help restore headstones damaged by time, vandalism, and weather. Call (256) 533-5723 for more information.
Mobile
Ghost Tours, Mon.-Fri., year-round
Hop aboard the trolley at the Fort Conde parking lot each night for a tour through dark, ghostly historic districts of Mobile. A guide will share tales of the past and stories of famous local spirits that roam the streets after dark. Tours depart at 7 p.m. and cost $20 per person.
Reservations are required: 1.800.338.5597, http://www.baycityconventions.com.
Montgomery
Haunted Hearse Tours — Oct. 1-31
Tour operators offer 'take a ride in a renovated hearse if you dare." The hearse can accommodate a maximum of six guests per trip. The tour will go by Hank Williams grave in the Oakwood Cemetery Annex as well as by numerous other sites in Montgomery with "haunted" histories. Tours begin on the hour - 7 p.m. - 12 a.m. each night. Pickup will be at the Alley in downtown Montgomery. Guides will share stories with the guests. Reservations can be made by calling 334.514.4457. Cost is $15 per person.
Selma
34th Annual Alabama Tale Tellin' Festival— Oct. 12-13
Storytellers and musicians from the Southeast will be featured at the 34th Alabama Tale Tellin Festival Oct. 12 - 13. Birmingham actress and storyteller Dolores Hydock has a unique way of telling a story as she transitions from medieval personas to North Alabama mountaineers to the spirited Cajun people of Southwest Louisiana. She has performed one-woman plays and been a featured storyteller at the National Storytelling Festival.
The festival will be held at Selma's Carneal Arts Revive building from 5:30 - 6:30 each evening for anyone to share stories. Admission is $15 per night for adults or $25 for both nights, $10 for students 12 and under or $15 for both nights. http://artsrevive.com/.
Selma
"Haunted History Tours" — Fri., Oct. 19 & Sat., Oct. 20
Two centuries of area history will come back to haunt visitors during the Haunted History Tours of Selma and Dallas County. Friday's event at Old Cahawba Archaeological Park features a rare moonlit, guided tour to the town's most haunted locations. Paranormal investigators will also demonstrate the art of ghost hunting. For more information call 334.875.7241 or 1.800.45.SELMA. http://www.selmaalabama.com.
Saturday features an investigation of spirits at Kenan's Mill. Participants will hear the history of the 1860s mill and tour for evidence of ghosts using special paranormal research equipment. Contact the Selma-Dallas County Tourism Office for more information. Reservations are required and limited tickets are available for $15. Old Cahawba Tour times on Friday night at 7, 7:30, 8, 8:30 and 9 p.m. Kenan's Mill tour times on Saturday night are 7, 9 and 11 p.m. For more information call 334.875.7241 or 1.800.45.SELMA. http://www.selmaalabama.com.
Tuscumbia
History and Haunts Trolley Tour, Oct. 27
The Tuscumbia "History and Haunts" Trolley Tour takes place Sat., Oct. 27, at 4:00 and 6:30 p.m. The guided tours will take participants around the historic town to some of its most "haunted" sites, including the Tuscumbia Depot, for a "revealing" slide show and to the Civil War battlefield where the "Engagement of Little Bear Creek" was fought near this date in 1863. Tickets are $10, available in advance at Cold Water Books, which is the departure point for the tours. For more info: Colbert County Tourism, 256-383-0783 or colberttourism@comcast.net
St. Stephens
Old St. Stephens Historical Park, Oct. 6, 13, 20, 27
Take a tour of Old St. Stephens and the cemetery as you hear tales and ghost stories of the town that was Alabama's first territorial capital. The town is now a historical park and archaeological site in Washington County. For more information call 251.247.2622.
###