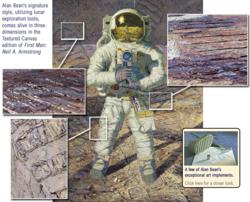 The fact that Bean uses a very innovative technique, in addition to being an astronaut himself, makes him a standout artist.
San Francisco, CA (PRWEB) October 05, 2011
Bay area art gallery and custom conservation framing company World Wide Art, Inc. is pleased to announce the availability of Alan Bean's awe-inspiring painting, "First Men – Neil Armstrong."
For as long as man has walked the earth, people have dreamed of exploring the heavens. Even today, the mystery of the "final frontier" serves as a source of inspiration for many people, from artists and scientists to science fiction fans, and everyone in between. The artist, former astronaut Alan Bean, is renowned and celebrated for his other-worldly paintings of space exploration, and "First Men – Neil Armstrong" is one of his best.
"This painting is particularly unique and interesting because it was done by an artist who has actually been on the moon," said David Wilfong, spokesperson for World-Wide-Art.com. "We are very excited to carry it on our online store."
As an astronaut, Bean himself walked on the moon as part of the Apollo 12 mission, and he incorporates his lunar experience into his work, both literally and figuratively. In addition to deriving a wealth of artistic inspiration from his travels, he also utilizes his lunar tools in all of his works.
Bean begins by covering the canvas with a texturing material and then uses an exact replica of the boots he wore when he walked the moon's surface to create human-sized footprints across the canvas. Next, he uses the actual geology hammer he worked with on his mission, as well as a sharp-edged bit from a core tube (which was used to take samples of lunar minerals) to add further texture to the painting.
"The fact that Bean uses a very innovative technique, in addition to being an astronaut himself, makes him a standout artist," Wilfong said. "It's inspiring to think about how his experiences have translated onto canvas."
The subject of this particular work is Neil Armstrong, the first man to set foot on our moon. In this moment captured on canvas by Bean, Armstrong is holding up a camera to take a photo of his fellow astronaut, Buzz Aldrin. In a real-life photo that Armstrong took of Aldrin, you can see this exact image reflected in the gold visor of Aldrin's helmet.
The image of Armstrong looking directly at viewers makes it feel as though they were part of the lunar setting themselves. The painting serves as a powerful reminder that human potential knows no bounds.
Each painting and print of an Alan Bean work is a little bit of history, and he signs each personally. In addition to Bean's "First Men - Neil A. Armstrong" painting, World-Wide-Art.com offers countless other new releases, limited editions and honored collections by today's top artists. For more information, visit http://www.world-wide-art.com.
###