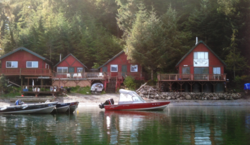 This site is a lot more modernized with the speed of the time
Petersburg, AK (PRWEB) March 22, 2013
Green Rocks Lodge, a fishing and hunting lodge located on the Southeast Alaskan island of Kupreanof, has announced the launching of its new website as it gets prepared for an active spring and summer season.
The new site, like Green Rocks' lodges, is modern with a four picture slideshow and loads of information on the lodge, its accommodations, packages, and a gallery and video page that will interest all hunters and fishermen.
"This site is a lot more modernized with the speed of the time," said Green Rocks Lodge owner Tim Harper.
People from all over the world have made Green Rocks Lodge their Alaskan destination to enjoy the splendors of Alaskan fishing and hunting getaway. People from Australia, Germany, Austria, Denmark and every state in the lower 48 have visited and enjoyed their stay at Green Rocks Lodge.
One of the reasons are the amenities and the affordability.
The price of the packages include three meals daily, bait, fishing equipment, and of course, use
of the boat and its fuel. Trips start as low as $1,400 for a four-day trip or $1,950 for a seven-day trip.
Children under 12 are half-off.
"We are very reasonably priced for Alaska," Harper said. "We're geared toward the working man as far as Alaskan trips go."
The fishing is the real treat at Green Rocks lodge. With mammoth halibut, five species of salmon, and rockfish, people fish for a variety of different species only found in Alaska.
"We get a lot of avid fisherman," Harper said. "Anyone that's in the fishing world knows Alaska is the ultimate destination for fishing. It's unspoiled territory."
The King Salmon run is from May 20 through July 31, Red Salmon (Sockeye) June 15 through August 20, Chum Salmon (Dog) June 15 through August 31, Pink Salmon (Humpies) July 20 through September 15, Silver Salmon (Coho), July 20 through September 30.
Halibut fishing starts May 1 Sept 30, while Alaskan black bear hunting starts in May and resumes in September.
To book your trip, or to find out more information, call 702-301-9657.
About Green Rocks Lodge: Green Rocks Lodge is an outdoorsman paradise located in the scenic Southeastern city of Petersburg, Alaska. Its lodging is modern and amongst the most affordable in terms of hunting and fishing lodges in Alaska. For more information, visit http://www.greenrockslodge.com.