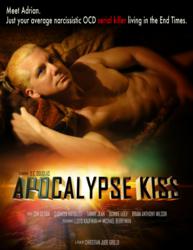 ... my fans have been dying to see me cos-play Wesker for three years!
Philadelphia, PA (PRWEB) March 25, 2013
Actor and voice over artist, D.C. Douglas, arrives on the set of the sci-fi thriller, "Apocalypse Kiss," today to film the lead role of Adrian, a narcissistic serial killer with OCD.
Douglas landed the role because the writer/director of the film, Christian Grillo, and co-star, Carmela Hayslett, are fans of his voice over work in the "Resident Evil" videogame franchise. Douglas became popular among the fan base for his portrayal of über boss, Albert Wesker.
"I asked Christian if he thought it would be a neat idea to create Adrian, in part, as an homage to Wesker," Douglas says, "since it's the character that inspired him to cast me in the role. He was tickled by the idea."
"Also," Douglas adds, "my fans have been dying to see me cos-play Wesker for three years!"
In addition to Douglas, the film also features Michael Berryman ("The Devil's Rejects," Star Trek IV," "One Flew Over The Cuckoo's Nest"), Lloyd Kaufman ("Rocky," "The Toxic Avenger," President of Troma Pictures), Tom Atkins ("Lethal Weapon") and Playboy Playmate, Tammy Jean.
"Apocalypse Kiss" is a futuristic science fiction thriller. When two nomadic lovers, Katia (Hayslett) and Gladys (Jean), enter the city, the death count rises and the murders are credited to the Red Harvest Killer. But the actual Red Harvest Killer, obsessive compulsive Adrian (Douglas), becomes furious that the sexy serial killing duo are grabbing media attention under his alias."
Douglas has also lent his voice talent to other videogames, playing Legion in the "Mass Effect" series and Raven in "Tekken 6" and "Street Fighter X Tekken." He also voices Chase on The Hub's animated series, "Transformers: Rescue Bots."
Because of these videogame credits, Douglas has been making personal appearances on the videogame and anime con circuit, most recently at MegaCon in Florida. Upcoming appearances include SaltFest, KnightroKon, T-Mode and MetroCon.
As a film and TV actor, Douglas recently guest starred on "NCIS: Los Angeles," "Criminal Minds," "Workaholics," "Dog With A Blog," and "2 Broke Girls."
To see pictures and get updates on the film, visit the "Apocalypse Kiss" Facebook page. For more information about D.C. Douglas, visit his official website: http://www.DCDouglas.com.
D.C. Douglas is represented by the Daniel Hoff Agency (323-932-2500) and Armada Talent Partners for film and television (424-652-5055). Abrams Artists reps Douglas for voice over (310-859-1417) and Jeff Zannini reps him for personal appearances (978-886-0966).