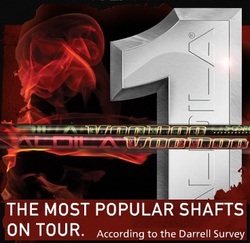 Our winning golf shafts almost speak for themselves. We look forward to seeing everyone at the Demo Day and PGA Show!
Poway, CA (PRWEB) January 26, 2011
On Thursday January 26th through Saturday January 29th Aldila Golf will be among 1000+ vendors representing the golf industry at the 2011 PGA Merchandise Show in Orlando, FL. In addition, Aldila will again sponsor Demo Day on Wednesday, January 26th. Show attendees, the press and fans will find the friendly Aldila Golf team at Booth #1729, where they will present their newest innovative golf shafts.
Company spokesperson, Jeremy Griffin says, "If you're looking to find the latest in golf technology, the PGA Show is a must-attend event. It's a great opportunity for us to meet enthusiastic golfers, celebrities and our manufacturer and retail partners. We're proud to once again sponsor this fun and informative Demo Day."
Aldila Golf's team will be on hand to answer golf shaft questions, and will be giving away free hats and posters while supplies last. In addition to the giveaways at its booth, Aldila Golf will also be awarding fan prizes through contests associated with Aldila Golf on Facebook (facebook.com/AldilaGolf) and Aldila Golf on Twitter (@AldilaGolf) -- so show attendees should make sure to Follow and Like Aldila online to learn more.
As a company Aldila is continually on the leading edge of golf shaft technology, producing innovations needed to give golfers the extra edge they demand. Aldila shafts are extremely popular and high performing on the PGA tour and include the well-known Voodoo, RIP, NV, VS Proto and DVS shafts. "We do the experimenting so consumers don't have to," says Griffin. "Our winning golf shafts almost speak for themselves. We look forward to seeing everyone at the Demo Day and PGA Show!"
About Aldila:
For over 38 years, Aldila has been known in the golf industry for its ability to fuse high-end golf shaft design with cutting edge technology. Aldila Golf and its full line of graphite golf shafts may be seen online at http://www.Aldila.com or they may be reached by phone at (858) 513-1801. Aldila, Inc. is the leader and innovator, and premier manufacturer of high performance golf shafts and carbon fiber materials. Aldila isn't just a golf company, it is also a prepreg composite materials manufacturer and technology think tank that's constantly researching the potential of physical and chemical compounds. Aldila Research & Development has only begun to scratch the very-thin surface of Micro Laminate and carbon nanotube applications and the future discoveries that will help take golfer's games to the next level.
###