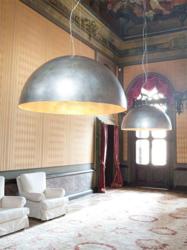 Ollier Distributors Inc. is excited to release Moonlight, a collection of modern pendants, the first of Aldo Bernardi's new modern lighting to be introduced in 2013. - Morgan Sheets, Ollier Distributors Inc.
Indianapolis, IN (PRWEB) March 05, 2013
Ollier Distributors Inc., the exclusive distributor of Aldo Bernardi Italian lighting in the USA and Canada, is pleased to announce the debut of Aldo Bernardi's luxurious new Moonlight pendant light.
Aldo Bernardi is known for his rich and rustic living finishes and is bringing a modern, new look to his design repertoire using steel instead of his traditional brass and copper for the Moonlight series of pendants broadening his personal style. Moonlight is the first fixture from Aldo Bernardi's modern body of work to be introduced in 2013.
The Moonlight modern pendant features a hemispherical aged steel shade coated with a semi-opaque shellac to slow the aging process. The shade reflector is available in precious metal finishes of gold, silver, or bronze leaf. Moonlight was inspired by the moonlit evening skies above the Dolomites in northern Italy.
The pendant is available in three sizes ranging in shade diameter from 19 1/2" to 35 1/2". The overall height can be specified at the time of the order. Moonlight pendants do support energy efficient light bulbs like LED, Fluorescent and Incandescent bulbs with an E26 medium base. As is true with all of Aldo Bernardi's lighting, each piece is crafted using handmade processes.
About Aldo Bernardi, srl:
Aldo Bernardi established his lighting factory in the early '70's in a small village located outside of Venice in an area renowned for its traditional artisan cottage industries, based on the availability of rich local natural resources. These industries are what inspired Aldo Bernardi's signature Farmhouse Modern classic collection of lights, and the local craftsmanship is strongly reflected throughout Aldo's lighting lines. Despite today's ever increasing demand for Aldo Bernardi's light fixtures and the fast turnaround clients require in production, Aldo Bernardi still relies on handcrafted manufacturing and uses a modular manufacturing approach and advanced quality control system to deliver the quality clients desire at the speed which they need the product. Aldo Bernardi designs top quality products that blend the classic and simple beauty of the past with today's need for practicality, resulting in a wide range of interior and exterior light fixtures and garden structures in sophisticated combinations of brass, copper, ceramic, hand-blown glass, steel, and his new precious metal finishes. Aldo Bernardi lighting beautifully accents a wide variety of design settings ranging from residential and hospitality to the traditional and contemporary. For more information go to, http://www.aldobernardi.us
About Ollier Distributors Inc.:
In 2009, Ollier Distributors Inc. officially launched Aldo Bernardi lighting to the USA and Canada. Ollier Distributors is a small family owned and operated business based in Indianapolis, IN and have the exclusive distribution rights for Aldo Bernardi lighting in the USA and Canada. Ollier has worked extensively to have Aldo Bernardi lighting collections UL certified and adapted for the American market. Ollier Distributors strives for 100% client satisfaction by actively assisting clients in selecting their lighting, ordering, and coordinating shipping and delivery, making the process as simple as possible for clients. Ollier is commited to excellence in the design industry and are a trade protected company. Ollier's goal is to support the design trade through providing a quality product that has the versatility to match a wide range of design styles and applications, making Aldo Bernardi lighting collections a staple in the interior design industry. For more information go to, http://www.carolollier.com