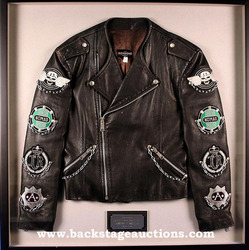 The auction will also feature signed Aerosmith and AC/DC guitars and stacks of photos featuring Alice with a wide array of celebrities
Houston, TX (PRWEB) August 15, 2007
Alice Cooper'stown is the place where jock's and rock meet, at least they did in Cleveland for 5 years. Memorabilia from the restaurant will be auctioned in the Rock History -- Cleveland Style auction hosted by Backstage Auctions next month.
The restaurant, which opened its doors in 2001, had a five year license agreement with Alice Cooper. A logic combination of Cleveland's Rock 'n Roll Hall of Fame and Cooperstown Baseball Hall of Fame was the perfect union of sorts. When the agreement expired in 2006, the owner Tim Rose, changed the restaurant to a sports themed café leaving boxes of unbelievable rock and roll collectibles without a home. "I met Tim earlier this year when I was in Cleveland working with David Spero on the Rock History -- Cleveland Style auction and it was nothing more than perfect timing and a perfect fit for our upcoming auction," says Backstage Auctions founder Jacques van Gool.
Some of the most impressive pieces include several of Alice Cooper's gold and platinum record awards, a custom made leather jacket worn in the movie "Wayne's World" and used on tour in the early '90s, a great collection of posters, artwork and celebrity signed items. "The auction will also feature signed Aerosmith and AC/DC guitars and stacks of photos featuring Alice with a wide array of celebrities," comments van Gool.
Equally exciting, the auction will also feature the private collection of well known rock and roll manager and Cleveland-based industry icon David Spero. Spero's collection is a 40 year walk down rock history, with each piece telling a story and chronicling his career in the music industry. Spero's talent roster reads like a who's who of rock and roll; managing or working along side Joe Walsh, The Eagles, Harry Nilsson, Ringo Starr's All Starr Band, James Gang, Styx, Survivor, Ian Hunter, Don Felder, Eric Carmen, Michael Stanley, Sam Moore, Dickey Betts, JD Souther and Billy Bob Thornton ... just to name a few.
The online auction event will begin on Sunday, September 23 and will run for one week ending on Sunday, September 30. The full auction catalog, which will feature over 700 auction lots, will be available online to view beginning Sunday, September 16 at http://www.backstageauctions.com.
Backstage Auction is a leading online auction company committed to offering authentic collectibles directly from the private collections of musicians and entertainment industry professionals. Founded on the principles of combining their clients career achievements and popularity with the demand and interest of fans who desire truly authentic and unique collectibles, Backstage Auctions is the place where rock legends live on.
For more information on the auction and the items that will be featured please visit http://www.backstageauctions.com.
Contact:
Kelli van Gool
Backstage Auctions, Inc.
713-862-1200
# # #