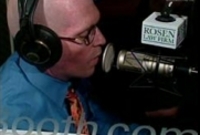 Should You Still Worry About Alienation of Affection?
Raleigh, NC (PRWEB) October 4, 2009
Divorce Talk Radio, a production of North Carolina family law firm, Rosen Law Firm, discusses North Carolina's newly passed alienation of affection laws in, "Should You Still Worry About Alienation of Affection?". Every week, Divorce Talk Radio features current topics in family law and answers listener questions regarding family law issues in North Carolina.
In "Should You Still Worry About Alienation of Affection?", Raleigh Divorce Lawyer Lee Rosen, host and CEO of Rosen Law Firm, answers listener questions regarding separation, equitable distribution and divorce from bed and board and what impact the new North Carolina laws for alienation of affections and criminal conversation will have on individuals in relationships with married men and women.
"Most people don't realize that sex with someone outside of the marriage is considered a crime in North Carolina," says attorney Lee Rosen. Claims for alienation of affections used to include behavior at any point during the marriage - even after separation. As of October 1, 2009, claims of alienation of affection and criminal conversation can no longer be filed for conduct that started after the date of separation.
Divorce Talk Radio is a free, professional resource available to everyone in the state of North Carolina. Hosted live every Wednesday at 11 a.m. Eastern time, Divorce talk Radio offers listeners the chance to call in and ask questions about any aspect of family law. Attorneys from Rosen Law Firm address listener questions using their professional knowledge and experience.
Divorce Talk Radio covers a range of topics that may arise in a family law dispute. Recent episodes include; "The Top 6 Things Not to do During Your Divorce", "Confronting your Wife's Boyfriend", "Who Gets the Kids?" and "Should I Stay or Should I Go?"
Listeners tuning in are able to access the show through an embedded video stream that appears on the homepage fifteen minutes before the show's start time. Past episodes of Divorce Talk Radio, with a Durham, Charlotte, or Cary divorce lawyer as a panelist are archived on the Web site.
For More information on Rosen Law Firm and Divorce Talk Radio, or for an interview, please contact Ned Daze at Rosen Law Firm, or visit the Raleigh divorce lawyer homepage.
About Divorce Talk Radio
Divorce Talk Radio gives listeners an opportunity to ask questions and make comments about family law in North Carolina. To have your questions answered on the show, please call 919-256-1552 or ask your question in the live chat room below the video window.
About Rosen Law Firm
With offices in Raleigh, Charlotte and Chapel Hill, Rosen Law Firm is one of the largest divorce firms on the East Coast. Founded in 1990, the firm is dedicated to providing individual growth and support to couples seeking divorce by helping them move forward with their lives. Our staff of attorneys, financial professionals and specially trained divorce coaches expertly addresses the complex issues of ending a marriage. Our innovative approach acknowledges that divorce is so much more than just a legal matter. Practice areas include child custody, alimony, property distribution, separation agreements and domestic violence relief.
Media Contact:
Ned Daze, Director of Public Relations
Rosen Law Firm
919-256-1558
http://www.rosen.com/ned/
# # #