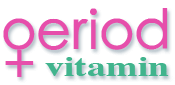 This is very encouraging news," said Uka Tumur of Period Vitamin. "The key of course is for women to find a safe, high quality, well-made supplement that contains iron.
Los Angeles, CA (PRWEB) March 11, 2013
A new study has shown what many women already knew – that all-natural supplements like Period Vitamin can be a very effective treatment for PMS-related symptoms.
In the study, which was recently published in the American Journal of Epidemiology, researchers from University of Massachusetts at Amherst and Harvard University discovered that women who consumed iron in the form of supplements or from plant-based foods were 30 to 40 percent less likely to develop PMS later in life.
"This is very encouraging news," said Uka Tumur of Period Vitamin. "The key of course is for women to find a safe, high quality, well-made supplement that contains iron."
Period Vitamin, which is produced in a GMP certified lab, contains iron as well as a number of other ingredients that have been shown to reduce or eliminate PMS systems. These other ingredients include:

Contains an essential fatty acid called gamma-linolenic acid, or GLA, for short. GLA is an anti-inflammatory that's converted to prostaglandins in the body. This compound is a strong anti-inflammatory that eases many PMS symptoms.
Was the first source of what we call aspirin today. It is an anti-inflammatory and pain reliever recognized around the world by the global medical community.
Slows the flow of blood in the body, reducing menstrual cramps
Has been proven to reduce uterine spasms (a major source of painful cramps) and acts as an anti-inflammatory.
Effective in warding off urinary tract infections

One of nature's best sources of phytohormones, which your body uses to produce the hormones that help regulate it and keep it operating efficiently.
Helps relieve uterine cramps
Thought to increase libido, strengthen the nervous system, balance hormone levels and raise energy levels. Also thought to defend against depression, anxiety, low estrogen levels and hot flashes.
Helps balance the female hormonal system; also thought to relieve menstrual cramps and both menopausal and PMS symptoms
Reduces cramping, bloating and other pain associated with PMS
Helps muscles relax, minimizing cramps. Also, many experts say that low levels of magnesium may be related to PMS.
Helps body control heavy bleeding

A powerful antioxidant

Helps relieve numerous PMS symptoms
Helps correct irregular menstrual flow
Helps relieve cramping
Reduces irritability and helps body adapt to stress
Also known as riboflavin, promotes healthy muscle function and helps body release energy from food.
Reduces swelling and helps to reduce cramping
Known as the energy vitamin, also thought to relieve symptoms of PMS
Helps with formation of healthy blood cells, may help relieve tension

Necessary for blood clotting
"With Period Vitamin, users are getting a safe, all-in-one solution that treats all their symptoms at one time while balancing their body's hormones," Uka Tumur said.
More information is available at http://www.periodvitamin.com.
ABOUT PERIOD VITAMIN
Period Vitamin was created in January of 2008 by manufacturers looking to create a vitamin that provides women with the nutrients they need to have a balanced vitamin intake and combat the causes of PMS. Working with natural ingredients, they formulated a product that can address the causes of PMS and found the right combination of all natural ingredients to fight those changes in the body. By looking at the causes of PMS from a scientific standpoint, the makers of Period Vitamin found that hormone fluctuations were the root cause of PMS symptoms. The answer was to start with each symptom and address which hormone change caused that symptom and then finding a natural ingredient to counterbalance the hormone change. All ingredients in Period Vitamin are natural and the completely safe formula does not contain a single preservative or synthetic ingredient.
Contact:
Uka Tumur
Email: CustomerService(at)PeriodVitamin(dot)com
Website: PeriodVitamin.com