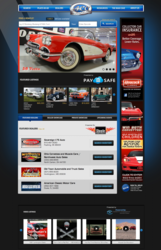 'Our main focus at all times remains ease of use for our visitors, this new site incorporates technology from some of the most highly visited websites in the world!', says Joe Ruffino the Co-Owner/CEO of ACC
(PRWEB) March 14, 2013
AllCollectorCars.com is proud to present to you their completely redesigned website (http://www.allcollectorcars.com). With over a year in the making, the all new ACC has been given a clean new design and pumped full of several game changing enhancements. "Our main focus at all times remains ease of use for our visitors, this new site incorporates technology from some of the most highly visited websites in the world!", says Joe Ruffino the Co-Owner/CEO of ACC. Presenting advertising customers with new, more effective ways to market their vehicles or business is something that ACC prides themselves on. Outside-of-the-box thinking and the formations of several key partnerships allows them to create some separation from the industry standards.
Quietly, ACC has skyrocketed past the former industry leaders in total listings. Now reaching over 21,000 listings and growing on a daily basis, ACC has surpassed the likes of AutoTraderClassics.com and Hemmings.com, providing the world with more vehicles to browse in one location. By doing so, ACC has solidified themselves as one of the top online classified websites in the collector car industry.
One of the major enhancements to the website is the arrival of the "Simplified Search" on ACC's homepage, a familiar look and feel to individuals who use Google to search the web. ACC has rid their site of annoying dropdown menus to search for vehicles by year, make, and model. Now using the simplified search, the user can simply input something like 67 Mustang and click search to achieve fast and accurate results. When it comes to ease of use, it does not get much easier than that.
Every single listing on AllCollectorCars.com is fully equipped with Unlimited Images, Unlimited Descriptions, and Walk-around Videos. While many other classified sites charge more money to add these features, ACC believes in an All-In-One package. They include this as a free benefit to the sellers which helps paint a better picture for the buyers that may be across the country, giving them as much quality information about their potential purchase as possible. In an effort to greatly benefit their customers, ACC has set their pricing (http://www.allcollectorcars.com/place-an-ad/) well below the industry standards at only $59.99 for a dealer package with unlimited listings, and private seller ads for a one-time fee of $24.99 which gives you a run till sold ad. "We are here to bring buyers and sellers of these fine collector vehicles together, without putting a strain on your budget. We will be around for a very long time and will stay focused on changing the way you sell your vehicles online," says Shawn Grigg Co-Owner/CEO of ACC.
Not "all business" ACC also has a section of the site dedicated solely to all the things guys love. The ACC Man Cave (http://www.allcollectorcars.com/the-man-cave/) features cars, girls, sports, and more. Though searching for classic and collector vehicles is eye candy in itself, the man cave allows you to casually browse through other entertaining images, videos, and articles related to our industry.
Please visit the ALL NEW website right now and begin the search for, or sale of your next collector vehicle at http://www.allcollectorcars.com.
AllCollectorCars.com
888.472.9696
info(at)allcollectorcars(dot)com
http://www.AllCollectorCars.com