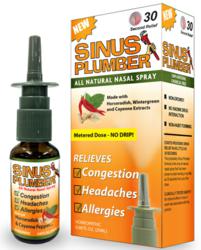 Sinus Plumber relieves congestion and pain within 30 seconds thanks to a combination of horseradish, capsaicin and wintergreen.
Clifton Park, NY (PRWEB) April 22, 2012
Capsaicin (hot pepper) nasal sprays have been clinically proven to relieve allergy, sinus and headache symptoms since Wayne Perry invented the worlds' first commercial pepper nasal spray in 2003. Perry's idea caught on and now there are several pepper nasal sprays on the market, but the inventor has continued to search for ways to improve his original concept. With allergy season just getting started, Perry's company GSC Products has launched Sinus Plumber, the worlds' first pepper nasal spray with the added power of horseradish and wintergreen.
While Perry, a chronic headache sufferer, was always happy with the effectiveness of his first formulation, he believes this new nasal spray delivers a three prong approach to relieve allergy, sinus and headache symptoms far beyond traditional capsaicin nasal sprays.
"Capsaicin certainly relieves congestion, sinus pressure and headache pain, but for severe headaches and congestion, the relief is very temporary. A person might have to use it numerous times to stay clear. When you mix pepper with horseradish and wintergreen, it instantly clears congestion and pain for hours with just a squirt or two for most people. The addition of horseradish and wintergreen dramatically increases the speed of relief as well as the length of time it continues working," says Perry.
The active ingredients in Sinus Plumber are designed to work together for fast relief that lasts all day. Capsaicin contains capsaicinoids that desensitize tiny nerve fibers in the mucous membranes, triggering the body to release chemicals that naturally shrink swelling. Wintergreen contains high amounts of methyl salicylate, the main component of aspirin that's incredibly effective against pain and inflammation. Horseradish contains high doses of glucosinolates, known for their anti-bacterial, anti-cancer and pain fighting properties.
According to Wayne Perry, Sinus Plumber is an all around nasal spray that relieves a variety of sinus and headache conditions whether related to allergens or bacteria.
"Sinus Plumber will revolutionize the sinus, allergy and headache categories forever. It relieves all types of headaches, nasal allergies and sinus symptoms with no nasty chemicals. Not only is Sinus Plumber the most effective natural nasal spray available, it's also the fastest acting and longest lasting in my opinion," Perry adds.
About GSC Products, LLC:
Founded in 2009, GSC is known for its unique natural health and beauty brands including: ThermaSkin, ThermaScalp, Acne Killer, Venomous, Youthful Trends, Turbo Snort and Fresh Beauty Market. GSC is a privately held corporation with facilities in Clifton Park and Albany, NY. More information is available at Greensations.com and SinusPlumber.com.