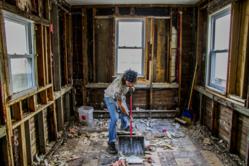 All Hands Volunteers has developed an innovative and cost-effective approach to mold remediation that is benefiting hundreds of homeowners devastated by Hurricane Sandy. - Emary Aronson, managing director of Robin Hood
New York, NY (PRWEB) March 29, 2013
All Hands Volunteers announced today that The Robin Hood Relief Fund has committed an additional $750,000 in funding to its Hurricane Sandy relief work, bringing total funding from Robin Hood to $1 million. All Hands Volunteers provides direct assistance to communities impacted by natural disasters by rapidly mobilizing flexible, volunteer workforces in the US and internationally.
All Hands Volunteers has been on the ground in New York working with those impacted by the storm since November 8, 2012, less than two weeks after Hurricane Sandy made landfall on the east coast on October 29. Initial recovery efforts focused on removing debris, and "mucking and gutting" water-damaged homes and buildings. All Hands launched an ambitious mold remediation program in January 2013, and has recently decided to expand its Hurricane Sandy work to include subfloor rebuilds.
"We at All Hands Volunteers are thrilled to receive an additional $750,000 in funding from The Robin Hood Relief Fund," said Marc Young, director of operations for All Hands Volunteers. "This grant will allow All Hands to expand our scope of work in Long Island, enabling us to provide even more free mold treatment to Hurricane Sandy-affected residents, and to begin offering no-cost subfloor replacement for those in need."
Mold remediation and subfloor replacement are two significant steps in the recovery process. Mold treatment is generally not covered by homeowner insurance policies, and is an often-overlooked part of recovery. Subfloor replacement is another essential step because most contractors – electricians, plumbers and drywall teams – will not work in homes that do not have secure subfloors in place.
"All Hands Volunteers has developed an innovative and cost-effective approach to mold remediation that is benefiting hundreds of homeowners devastated by Hurricane Sandy," said Emary Aronson, managing director of Robin Hood. "We are pleased to expand our support so that All Hands Volunteers can provide subfloor reconstruction, which will help families get back into their homes quickly and safely."
With the additional $750,000 in funding from Robin Hood, All Hands Volunteers is extending its Long Island project, ensuring mold remediation and subfloor work in the affected area will continue through at least early fall, 2013.
As the 6-month anniversary of Hurricane Sandy approaches on April 29, 2013, total contributions to All Hands Volunteers for Hurricane Sandy relief efforts have surpassed $2.1 million, with a total of $1 million coming from The Robin Hood Relief Fund. Robin Hood, one of New York City's leading poverty-fighting organizations, has contributed more than $68 million in grants since the late-October hurricane, over 60% of which "have been devoted to housing-related groups that are helping residents repair and rebuild their damaged homes," according to Robin Hood sources.
To-date All Hands Volunteers has mobilized close to 2,000 volunteers who have helped remove debris, mucked and gutted 229 homes, and treated another 57 for mold in Hurricane Sandy-affected areas of Long Island and Staten Island, NY.
To learn more about All Hands Volunteers and their Hurricane Sandy relief and recovery efforts, visit http://www.hands.org.
About All Hands Volunteers
Founded in 2005, All Hands Volunteers is a US-based, 501(c)3 non-profit organization providing hands-on assistance to communities around the world impacted by natural disasters. Over the past eight years, All Hands has launched 30 projects in the US and internationally, including Superstorm Sandy/NY (2013), Hurricane Katrina/Biloxi, MS (2005), Haiti earthquake (2010), Japan earthquake and tsunami (2011), Philippines typhoon (2011).
Media Contact:
Tamera Gugelmeyer
All Hands Volunteers
communications(at)hands(dot)org
http://www.hands.org