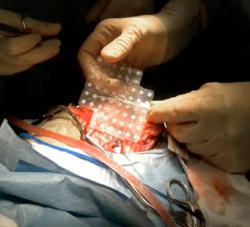 We tell the parents that we are going to take care of their child the way we would take care of our own child in the operating room
Orange, CA (PRWEB) March 04, 2013
Allied Anesthesia physician Dr. Jack Canton used Katy Perry's chart-topper, "Firework," to calm an anxious, frustrated patient during an awake craniotomy.
It started with an 11-year-old patient was fatigued, frustrated and fidgety.
Wide awake on the operating room table while surgeons worked to remove a malignant tumor from her brain, she was growing tired of reading aloud and answering questions from the neurologist, Dr. Mary Zupanc, administering essential brain-mapping tests.
Anesthesiologist, Dr. Jack Canton had an idea.
"At that point, I asked her to pick any song she liked and sing for us," Canton said. "Being a little uninhibited, she belted out "Firework" by Katy Perry. I thought it was quite fitting as the surgery we were performing was going to transform her life and allow her to be anything she wanted to be."
"You just gotta ignite the light and let it shine
Just own the night like the 4th of July
'Cause, baby, you're a firework
Come on, show 'em what you're worth
Make 'em go 'Oh, oh, oh'
As you shoot across the sky-y-y."
The patient relaxed and neurosurgeon Dr. Mike Muhonen was able to identify the two speech areas of her brain by applying an electrical probe that silenced her singing. Then, he removed the entire tumor, which bisected the speech areas, without compromising her speech.
"Asking her to sing was a very clever trick because the patient will get tired of you telling them to count to 10 or say their ABCs" said Muhonen, who performed the surgery at CHOC and St. Joseph Hospital in Orange, Calif. "It put her in a relaxed state of mind and got her mind off what I was doing inside her cranium."
Since the patient was singing and using her vocal cords continuously, it was easier for Muhonen to map out the speech areas to avoid while removing the tumor.
"You're literally within a millimeter of destroying that child's life, or giving her back to her family completely whole," Muhonen said. "It's very humbling to be in that position. You have to make the right decision and it certainly was facilitated by the way Marigold's speech area was uniquely mapped out."
Patients singing pop songs during surgery is not a common occurrence in any operating room but neither is performing an awake craniotomy on a child, especially as young as she was at the time.
Awake craniotomies are complex procedures used to remove tumors that are within millimeters of functional areas of the brain that govern speech, motor skills and senses, also known as eloquent cortex. It allows the surgeon to react to patient feedback during surgery so critical parts of the brain suffer minimal damage. A fast-acting, short-term anesthetic is carefully administered while the surgeon opens the skull with a drill and exposes the brain. Once the patient wakes up, they don't feel any pain because the brain lacks pain receptors.
In this case, the tumor was causing severe recurring seizures in the patient. Most children wouldn't tolerate an awake craniotomy so surgeons have to be very selective in deciding which ones are mature enough to hold still and be cooperative during the procedure. It requires a great deal of trust between the patient, the family, the surgeon, neurologist and the anesthesiologist developed during multiple meetings and phone calls.
"We tell the parents that we are going to take care of their child the way we would take care of our own child in the operating room," said Canton, the anesthesiologist. "The parents feel better when they understand that we all have children and we realize how stressful it is to give their child up to someone else. An essential component of being a pediatric anesthesiologist is addressing the parents' needs along with caring for the child."
As the anesthesiologist, Canton was not only responsible for monitoring the patient's vital signs, he also made sure the patient continued to talk during the surgery.
"I'm there as a cheerleader, someone to console them and a familiar face," Canton said.
Canton is an anesthesiologist with Allied Anesthesia, which provides anesthesia services to St. Joseph Hospital and Children's Hospital of Orange County (CHOC).
Muhonen said that all of the anesthesiologists at Allied Anesthesia, who work with children, have had extra training in pediatric anesthesia. He commended Canton for his professionalism and the degree of preparation and research he did prior to the case.
"He went above and beyond what he needed to do to make this case application safe for the child," Muhonen said. "It's really a reflection of the department. They take it upon themselves to hire top quality pediatric anesthesiologists."
Canton attributed the success of the surgery in part to the excellent teamwork among St. Joseph's and CHOC'S doctors, nurses and other medical personnel, whom he has worked with for years. For example, during the surgery, the patient suffered a seizure and stopped breathing, a potentially catastrophic complication that can occur during these procedures.
"We were all able to handle it calmly and quickly because we trusted each other and knew what to do," Canton said. "We made it a small issue when it could have been a major issue, jeopardizing the success of the surgery."
The patient, Marigold Beltran, said she's doing much better after the surgery. Her tumor is gone and she has not had any more seizures.
Marigold said she was grateful to Canton because he made sure she wasn't in any pain and to Muhonen for being such an excellent surgeon.
"Losing my speech was the only thing I was afraid of but I felt positive because it was all up to Dr. Muhonen to keep my speech area safe from being damaged."
About Allied Anesthesia: With 48 highly qualified anesthesiologists on staff, Allied Anesthesia provides adult and pediatric anesthesia services to St. Joseph Hospital of Orange, the Children's Hospital of Orange County, the Main Street Specialty Surgery Center, and many other Southern California healthcare facilities.
Allied specializes in pediatric anesthesia, performing approximately 12,000 pediatric anesthetic procedures a year. All of the group's anesthesiologists have a special interest in pediatric pain management and are board certified or board eligible in pediatric anesthesia. All Allied
Anesthesiologists are board certified, and they staff and manage the most efficient operating rooms in Southern California.
Allied is a member of the California Society of Anesthesiologists and the American Society of Anesthesiologists.
For more information, visit http://www.alliedanesthesia.com.
###