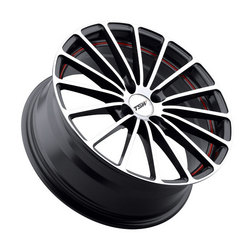 Our hub centric wheels will ensure a smooth, vibration free ride
Huntington Beach, CA (PRWEB) April 1, 2009
TSW Alloy Wheels, an industry leader in the development of innovative and striking aftermarket alloy wheels, has introduced an aggressive face-forward multi-spoke wheel, the Asan. Named after the Asan race track in Japan, this is a custom high performance, hub centric alloy wheel.
The Asan Alloy Wheel is crafted utilizing a new technique: by back cutting behind the spoke, a groove is created that reduces wheel weight. The red time attack stripe painted behind the spoke adds an extra visual dimension which gives the wheel that ultimate sporty look. The wheels are available in gun metal with a brilliant machined cut face.
The Asan 4 and the Asan 5 are available in an array of sizes; 15x6.5, 16x7, 17x7, 17x8, and 18x8. The wheels are made for both four and five lug passenger cars and small SUV's. Both high and low offsets are available from 20 to 45mm.
The Asan wheels are created to be hub-centric. "Our hub centric wheels will ensure a smooth, vibration free ride," says Terence Scheckter, CEO of TSW Alloy Wheels.
As with all TSW wheels, the Asan is built to TSW's strict manufacturing standards while maintaining the lightest possible weight. "We are obsessed with engineering excellence at TSW Wheels," says Terence Scheckter, CEO of TSW alloy wheels, "We strive to offer the perfect fit for your vehicle."
Prices of Asan wheels range from $170 - $220. For a dealer near you call: 800-479-9723, or visit TSW on the web at http://www.tsw.com.
About TSW Alloy wheels: Founded by a former Formula One racing driver, TSW has been involved in motor racing around the globe for over thirty years. TSW manufactures the largest range of staggered one piece alloy wheels in the world. TSW Alloy Wheels offers a broad range of styles and finishes, including black wheels, hyper silver wheels, machine cut wheels and chrome wheels. Sizes of TSW wheels range from fifteen inch wheels through staggered twenty two inch wheel applications.
The TSW group also owns several other custom aftermarket wheel brands that address specific vehicles, including a group of marquee specific brands. For more information, call 800-479-9723, or visit TSW on the web at http://www.tsw.com.
###