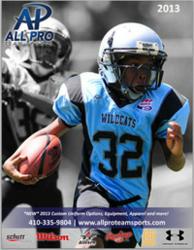 ...the jerseys arrived Friday, and as usual with APTS, everything was perfect. I can't tell you how much I appreciate what you did for us...
Baltimore, Md (PRWEB) March 27, 2013
All Pro Team Sports announces the launch of their new website in February in a concerted effort to bring customer experience back to the forefront of youth football equipment purchasing by teams and leagues. All Pro CEO's Mike Lotocki and Steve Bottcher look no further than their founding principle during a recent website re-launch as inspiration for enhancing usability and the overall customer experience. The new All Pro Team Sports website was constructed with the principle of making the uniform, apparel and equipment shopping process as easy as possible for large organizations and team orders. As Lotocki states, "Team uniform purchasing can be stressful. As a season approaches, coaches scramble to make sure they have all the gear they need to put forth a complete and safe youth sports team. It's our goal to take the stress out of the process to allow coaches, parents and players to focus on preparing for optimal on-field performance."
The All Pro site was launched with coaches – their primary customer base – in mind. All Pro made a concerted effort to place team-oriented products on their homepage, as well as a traditional looking e-catalog for football coaches to print and bring to the field – a favorite practice for youth football coaches across the country. "We talk to coaches every day and they always tell us how much they like having the physical catalog readily available at practice in case they need to pick up any last-second items. There's no way we could get rid of our e-catalog", acknowledges Botcher. The site re-launch took coaches into consideration even further with options to request team pricing quotes and clearly marked order deadlines on products like custom uniforms.
The team at All Pro saw additional opportunity in the youth athletics landscape with an opportunity to position themselves as industry thought leaders. The company launched a new blog as well as a section for team resources like a football equipment checklist. CEO Mike Lotocki believes "we have a certain responsibility to help athletes, parents and league representatives keep their sports safe and enjoyable" as is evidence by the company's commitment to offering useful information like instructions on fitting a football helmet correctly. All Pro has re-committed to connecting with their customers on social networks like Twitter and Facebook and have shown a lighter-hearted side with a recent March Madness bracket challenge that attracted over 100 customers and Facebook fans to participate.
The customer commitment from the All Pro staff has resulted in an outpouring of positive feedback from customers; http://www.allproteamsports.com/our-teams/testimonials/
"Mike, the jerseys arrived Friday, and as usual with APTS, everything was perfect. I can't tell you how much I appreciate what you did for us. You were able to help us turn a very unfortunate situation, with what we thought was a credible supplier, into a full recovery ensuring our kids had game jerseys on week 1 of the season. I recognize that was a difficult request and it took you 'going the extra mile' to make it happen. Thank you again." - Glen Gimpel, Palm City Dolphins
All Pro Team Sports stands behind their founding principle to ease the team ordering process and hopes their company motto rings true for all their customers: "Wear All Pro, Play Like an All Pro!".
###
All Pro Team Sports was founded by Steve Bottcher and Mike Lotocki who have a combined 19 years of team uniform, apparel, and equipment experience. They bring with them vendor relations that also understand, that improving the team outfitting experience is a necessity. To learn more about All Pro Team sports, please call 410-335-9804 or visit their website http://www.allproteamsports.com/.
All Pro Team Sports
11615 Crossroads Circle, Suite H
Baltimore, MD 21220
410-335-9804