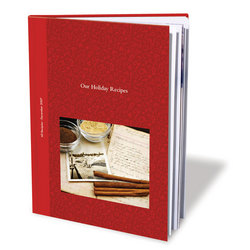 With more than 5.5 million unique visitors a month, Allrecipes is the leading community based recipe site on the Internet
New York (PRWEB) November 6, 2007
SharedBook Inc., the Reverse Publishing Platform provider, and Allrecipes.com, the world's largest online community food site, have introduced Create-A-Cookbook - a Web application allowing home cooks to create professionally-printed hard- or softcover cookbooks from their favorite online and personal recipes. Allrecipes.com members can now choose from more than 40,000 recipes to include in their personalized cookbooks, and then add their own recipes, notes, stories, and photographs.
Since there isn't always a convenient place in the kitchen for a computer, Create-A-Cookbook is an easy, one-click way to compile recipes in a book format that can be used and moved anywhere for easy access. With Create-A-Cookbook, users can also preserve treasured family recipes in the self-published on-demand cookbook, as well as share their favorite recipes with family and friends. Themed cookbooks can also be created for events such as Thanksgiving and Christmas, and for single subjects like soups or Italian food.
"For many of us, recipes and special foods are closely connected with cherished family memories, especially during the holiday season," said Lisa Sharples, President, Allrecipes.com. "Create-A-Cookbook is a unique way for our members to preserve their favorite recipes along with the stories and photographs that make them special."
Now, with just a few clicks using SharedBook's Reverse Publishing Platform, Allrecipes.com members can automatically flow recipes and photographs from their online Recipe Boxes into a structured cookbook that can be published in hard- or softcover format. They can then choose to preview and purchase the cookbook immediately or to personalize it further. Members can edit the content, upload additional information and photographs for the covers and the inside pages, and order as many or as few cookbooks as they want.
Allrecipes.com members can also invite family and friends into their personal cookbook publishing space to contribute their comments and photos. Invited guests can offer tips and suggestions on any of the recipes included, and personalize their own copy to publish. For anyone hesitant to share closely-guarded recipes online, the personal cookbook publishing space provides a secure environment where home cooks can display their recipes only to those they invite.
"With more than 5.5 million unique visitors a month, Allrecipes is the leading community based recipe site on the Internet," said Caroline Vanderlip, Chief Executive Officer, SharedBook Inc. "Create-A-Cookbook gives Allrecipes.com members the flexibility to publish collections of recipes in the way they choose, whether for their own personal use or as a gift any time of year."
Pricing for the personalized Create-A-Cookbook products begins at $24.99 in softcover and $34.99 in hardcover. This includes a full-color 20-page perfect bound book plus free domestic shipping. Additional pages may be inserted at a cost of $1 for every two pages. Completed books arrive in 10-14 business days.
For more information, please go to http://www.allrecipes.com.
About SharedBook:
SharedBook Inc. is a technology company that specializes in integrating and publishing data from various sources into a structured book product that can sit as a flipbook on the Internet or be professionally printed. The company's collaborative on-demand Reverse Publishing Platform allows users to extract data and content from multiple sources, manipulate it, and then distribute their unique creation in digital or hard copy format. SharedBook partners include AYSO® Soccer, Boston Symphony Orchestra, The Canyons Resort, CarePages, Inc. (a division of Revolution Health Group), Cruise West Cruise Lines, Exposures, 4-H, JumpTV Sports, Legacy.com, Little League International®, Regent Seven Seas Cruises, Sportography, Inc., Steamboat Ski Resort, 30 Minute Photos Etc., USA Football, YAVarsity.com, and Yosemite. For more information, please go to http://www.sharedbook.com or http://blog.sharedbook.com.
About Allrecipes.com:
Allrecipes.com, the world's largest independent food site, is an online cooking community where home cooks from around the world share, rate and download recipes and meal ideas. With more than 5.5 million unique visitors a month and a membership base more than a million strong, Allrecipes.com is the world's largest test kitchen, offering a nightly glimpse into the kitchens and habits of home cooks everywhere, and providing an indispensable resource for anyone seeking trusted recipes, everyday and holiday meal ideas, practical cooking tips and food advice. The site features more than 40,000 of America's best-loved recipes. For additional information regarding Allrecipes.com, please visit http://www.allrecipes.com.
###