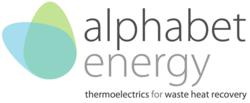 There is huge potential for waste heat to generate very low-cost power, making products that do so effectively competitive with base load generators—and far more competitive than other sources of renewable energy.
San Francisco, Calif. (PRWEB) September 15, 2011
Alphabet Energy Inc., innovator of low-cost thermoelectric materials for waste-heat recovery, has closed $12 million in Series A financing. TPG Biotech, the venture arm of TPG, led the round, with participation from existing investors Claremont Creek Ventures and the CalCEF Clean Energy Angel Fund.
The funding from three prominent cleantech investors enables Alphabet Energy to accelerate product development, deploy initial pilot projects, grow the team, and relocate to a new facility in the San Francisco Bay Area. Alphabet Energy raised its Series A round after successful completion of key technology and product milestones achieved during its $1 million seed financing from May 2010. The company announced that Dr. Mark Gudiksen of TPG Biotech has joined Alphabet's board of directors, with Dr. Geoff Duyk of TPG Biotech joining as a board observer.
In preparation for the next phase of its growth, Alphabet Energy recently added talented scientific and entrepreneurial advisors to its team. Dr. Lon Bell, one the world's leading inventors in the field of thermoelectrics, joined as a technical and strategic advisor, while Eric Ries, the Lean Startup expert, will advise on how best to optimize the company's technology and products for market opportunities.
Alphabet Energy's first product, currently in prototyping, is a simple, turnkey solution for the generation of electricity from wasted heat. Alphabet's goal is to become the leader in the potential $100 billion global market for products that convert medium- to high-grade waste heat into electricity — part of an existing $75 billion annual market for energy efficiency and a $6 billion annual market for industrial equipment. In the near term, the company is planning to deliver waste-heat-to-electricity generators that utilize hot exhaust gas from heavy industrial applications and engines as an energy source.
A distinguishing characteristic of Alphabet Energy's approach to waste-heat recovery is its use of silicon as its thermoelectric heat-to-power technology. Although in existence for many decades, thermoelectrics have rarely been integrated into commercial products due to the high costs of materials and manufacturing associated with previous approaches. Alphabet's silicon-based technology leverages established and readily available silicon infrastructure and expertise, making it the first and only company to take this approach. Tapping into existing know-how and capacity in the semiconductor and MEMS industry enables the company to iterate quickly through prototype phases and achieve scale faster by operating as a "fabless" semiconductor manufacturer.
"There is huge potential for waste heat to generate very low-cost power, making products that do so effectively competitive with base load generators—and far more competitive than other sources of renewable energy," said Matt Scullin, Alphabet's CEO and founder. "We're extremely pleased to welcome TPG Biotech to the team. Mark and his colleagues bring both deep technical expertise, global reach, and the same big-picture vision that we have for silicon thermoelectrics and Alphabet Energy."
"Alphabet's approach is currently the only in the field of thermoelectrics that has the potential to generate electricity at or below grid parity," said Mark Gudiksen of TPG Biotech. "We believe that waste heat is an enormous and important resource. Matt's product vision, Alphabet's outstanding team, and their highly differentiated technological approach makes Alphabet the leading opportunity in this sector."
"Alphabet has made tremendous progress in a very short period of time and has developed silicon-based thermoelectric products that it will deploy commercially," Paul Straub, a director at Claremont Creek Ventures. "Alphabet's approach enables recycling of wasted heat energy in a range of applications, each of which constitute enormous multi-billion dollar markets where conventional waste heat-recovery approaches, including thermoelectrics, have previously been limited by performance and economic considerations."
What are thermoelectrics?
Thermoelectric materials are semiconductors that, when placed in a temperature gradient, generate electricity in the solid state—like solar panels for heat. Alphabet's breakthrough thermoelectrics can be used to turn heat directly into electricity in applications such as metals refining, cement and glass production, power generation, automotive, aerospace, and military. The company's proprietary, all-silicon thermoelectric technology is currently the sole approach coming to market that can lend itself to massive scale, utilizing abundant materials and existing, inexpensive manufacturing know-how. The output range of power generation from Alphabet's products can be from microwatts to megawatts.
About the CalCEF Clean Energy Angel Fund
The CalCEF Clean Energy Angel Fund is a seed and early-stage venture capital fund dedicated to clean energy. The Fund deploys deep industry networks and experience to support capital-efficient companies focusing on renewable energy, energy efficiency, energy storage, and enabling products and services. Current investments include Lumetric, Allopartis Biotechnologies, Alphabet Energy and Reel Solar. For more information visit http://www.calcefangelfund.com.
About Claremont Creek Ventures
Claremont Creek Ventures turbocharges the uncommon startup. As a seed and early-stage venture firm, it embraces emerging technologies that accelerate company success, specifically in the healthcare/IT, energy conservation, and security markets. Utilizing a proprietary lifecycle venturing program, it partners with East Bay corridor-based entrepreneurs and institutions, including UC Berkeley, Lawrence Livermore Labs and UC Davis. Claremont Creek has more than $300 million in capital under management in two funds. CCV energy conservation and management investments include Adura Technologies, Alphabet Energy, Clean Power Finance, EcoFactor, and Project Frog. For more information, visit http://www.claremontvc.com.
About TPG Biotech
TPG Biotech is part of the growth equity and venture investment platform of TPG, the global private investment firm. With more than $1 billion under management, TPG Biotech targets investments in pharmaceutical discovery and development, medical technology, diagnostics, healthcare and pharmaceutical services, life sciences, as well as industrial applications of biotechnology. TPG Biotech's investments in renewables have included such companies as Amyris, Elevance Renewable Sciences, and Genomatica. Please visit http://www.tpgbiotech.com.
About Alphabet Energy Inc.
Alphabet Energy is commercializing breakthrough, inexpensive waste-heat recovery products based on technology developed at the Lawrence Berkeley National Laboratory. Alphabet aims to offer the most modular and scalable heat-recovery technology available, and to tap into the potential $100 billion market for the conversion of medium- and high-grade waste heat into electricity — offsetting as many as 500 million metric tons of carbon per year. Alphabet Energy won four awards at the 2009 Cleantech Open business competition: runner-up, National Prize; winner, National People's Choice Award; winner, California region Energy-Efficiency Prize; winner, California region Sustainability Prize. For more information, see http://www.alphabetenergy.com and @alphabetenergy on Twitter.
###