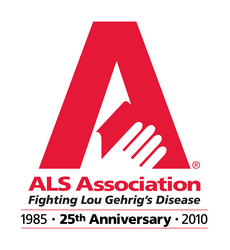 Calabasas Hills, Calif. (Vocus) February 9, 2010
The American Academy of Neurology and The ALS Association are offering a free audio conference call at 5 p.m. (Eastern Time) on February 11, 2010 for people with the disease ALS and their caregivers regarding the Academy's new guidelines on the most effective treatments for ALS.
The audio conference call will help emphasize that a lot can be done to make life easier and longer for people with ALS (amyotrophic lateral sclerosis). Important areas of care needing more research will also be highlighted.
The presenters include Robert G. Miller, M.D., neurologist and lead author of the Academy's ALS guidelines, coauthors Carlayne E. Jackson, M.D., Edward J. Kasarskis, M.D., Ph.D., and Dallas A. Forshew, R.N.
A brief question-and-answer period will be available to patients and caregivers at the end of the call as time permits.
To join the audio conference call with webinar capability, log on to https://alsa-events.webex.com/alsa-events/onstage/g.php?t=a&d=667887783. This is available to the first 1,000 registrants. If the webinar event is full, join the audio teleconference at: Toll Free #: (877) 669-3239 or Toll # (408) 600-3600. The participant pass code is (667) 887 783, then press #, #.
ALS is a progressive neurodegenerative disease for which there is no cure. On average, people who have what is commonly referred to as Lou Gehrig's Disease survive two to five years from the time of diagnosis. It is estimated that 30,000 Americans annually live with ALS.
For more information about the American Academy of Neurology and its guidelines for treating ALS, visit http://www.aan.com.
The ALS Association is the only non-profit organization fighting Lou Gehrig's Disease on every front. By leading the way in global research, providing assistance for people with ALS through a nationwide network of chapters, coordinating multidisciplinary care through certified clinical care centers, and fostering government partnerships, The Association builds hope and enhances quality of life while aggressively searching for new treatments and a cure.
For more information about The ALS Association, visit the organization's website at http://www.alsa.org or call (800) 782-4747.
# # #