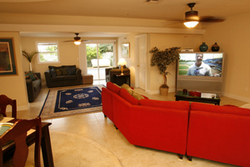 Delray Beach, FL (PRWEB) January 13, 2009
Holistic healing and Alternative Drug Rehab methods are increasing in popularity. Even before the recent admission of Comedian and Howard Stern Side-kick, Artie Lang that he skipped town for a "rehab" and turned out to be more of a health detox clinic, those suffering from addiction have swarmed toward the new whole body approach of affordable Florida drug rehabs like Drug Rehab Alternatives.
Drug Rehab Alternatives has been helping addicts recover for over twenty years and is run by one of the most progressive names in the business, Treatment Alternatives of Florida. Drug Rehab Alternatives has been a pioneer in new holistic healing methods like EMDR, Instructed Meditation, Yoga and Massage Therapy. It would be easy for the inexperienced to think of these new methodologies in treating addiction to be resort-like or mistake it for a Spa, like Lang's contemporaries on the Howard Stern show but the fact is that Drug Rehab and Addiction Treatment are straining experiences both physically and mentally. Teaching addicts how to cope with triggers and keep the body and mind strong enough to fight negative impulses takes more than just Twelve-Steps sometimes.
As the economy falters many more people world-wide will turn to drugs and alcohol. Families will fall apart and wealth will be squandered. It is the nature of addiction. Even when outside factors correct themselves, we will have a generation of addicts to deal with. Holistic healing and Alternative Methods are proving to be useful and necessary. For more information on Drug Rehab Alternatives please contact:
1-888-94-SOBER or visit http://www.drugrehabalternatives.com
###