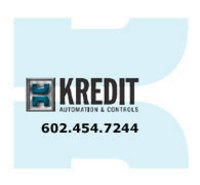 This contract represents further focus and support of the aluminum extrusion industry by Kredit Automation and demonstrates our ability to compete and win against the standard industry competitors by offering personalized service and turn-key engineering, fabrication and installation
Phoenix, AZ (PRWEB) April 3, 2008
Kredit Automation & Controls, Inc., a Rockwell Automation Systems Integrator Partner, announced today that it had received a contract for the design and installation of a draw bench rough cut saw and material handling system to be installed at Kaiser Aluminum's Chandler Arizona Operation. The material handling system features a lateral transfer off-load conveyor and two servo controlled gage stops for accurate cut-to-length control. The contract award to Kredit Automation & Controls follows recent awards from Indalex Aluminum Solutions and Hydro Aluminum of North America for extrusion die cleaning systems and press control upgrades for Alcoa Aluminum's Phoenix area facility.
"This contract represents further focus and support of the aluminum extrusion industry by Kredit Automation and demonstrates our ability to compete and win against the standard industry competitors by offering personalized service and turn-key engineering, fabrication and installation," says Kredit Automation president Dale Kredit.
Kaiser Aluminum is a leading producer of fabricated aluminum products for aerospace and high strength, general engineering, automotive, and custom industrial applications. Repeatedly acknowledged as "Best in Class" among its global customer base, Kaiser Aluminum's 11 fabrication plants typically produce and ship more than 500 million pounds of product annually.
About KREDIT AUTOMATION & CONTROLS, INC.: Kredit Automation is a manufacturing automation systems integrator located in Phoenix, Arizona. Their products and services include the design and fabrication of new machinery and material handling equipment, retrofit of older machinery with new control systems, and 24/7 service and repair. Kredit Automation & Controls is a Rockwell Automation Integrator Partner, and provides integration, upgrades, and repairs for many Fortune 500 manufacturers.
Contact information: Steven Smith, Vice President. 4038 E. Superior Ave. Building 2, Suite 102, Phoenix, AZ 85040. Phone number: 602.454.7244. Web page URL: http://www.kreditautomation.com
###