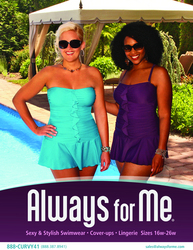 AlwaysForMe.com is truly the voice of the plus size customer
Hauppauge, NY (PRWEB) March 8, 2011
Leading online retailer of plus size swim wear, cover-ups, lingerie and active wear,AlwaysForMe.com, has announced a ten percent (10%) increase in sales, 2010 versus 2009. Strong year-to-year growth in sales continues AlwaysForMe.com's upward trend for the fifth consecutive year. In addition, robust first half forecasts have the full-figure fashion giant anticipating a twenty percent (20%) increase in 2011.
Founder and CEO, Susan K. Barone, attributes AlwaysForMe.com's steady growth to increasing demand for fashionable plus size clothing, and the launch of several new lines in her expanding collections of plus size swimwear and active wear.
"AlwaysForMe,com is truly the voice of the plus size customer." Asserts Barone. "Our on-going dialogue with women sized 16W-26W allows us to understand what full-figured women want and deliver it each season." Newly appointed CFO, Greg Barone adds," AlwaysForMe.com has made an investment in expanding our collections in response to the investment our customers have made in us. As evidenced by our continuing growth, that commitment to plus size customer service has resulted in a win-win for the company and the consumer -- despite challenging economic times."
Among the company's new swimwear collections are Always For Me Separates, Always For Me Cup Size and Always4Me. Always For Me Active is the brands new entry in plus size active wear.
Always For Me Separates swim collection gives women sized 16W-26W the ability to mix and match bathing suit tops and bottoms to their size, shape, style preference ((halter, tankini, brief, skirt, jogger etc) and color choice for the best flatter and fit.
Always For Me Cup Size swimsuit collection offers women with larger busts (up to an F cup size) an assortment of one and two piece plus size swimsuits that support and control with comfort and style.
Always 4 Me swimwear collection was created in response to recent changes in the economy to provide plus size women with a lower cost swimsuit option. All priced under $60, this line of plus size swimwear offers style and value.
Always For Me Active plus size work out clothing allows active plus sized women to mix and match the fitness clothing that's right for them. A collection of sports bras, short sleeved tee shirts, and tank tops in a variety of colors can be paired with an assortment of leggings,bike shorts, capri's and pants in various lengths and eco-friendly fabrics.
In addition to the new plus size clothing collections for 2011, AlwaysForMe.com has expanded several of its existing plus size swimwear lines to compliment the trends of the season such as plaids, florals, metallics and tribal prints, add to the color palette of best-selling styles with teal, plum, fuschia and color blocking and incorporate more eco-friendly and organic materials.
AlwaysForMe.com's line of plus size swimsuit cover ups and resort wear has expanded as well. This plus size clothing collection includes dresses, skirts, pullover and front closure cover-ups. 2011 styles offer versatility (7-way ties, skirt to dress to poncho styles), bright color (hot pinks, eggplant and yellow) and with even more eye appeal (cut-outs, peacock patterns, and ruffles)
AlwaysForMe.com is a leading online retailer of plus size swimwear, active wear and
lingerie. Founded in 2000 by Susan Barone, a successful apparel industry executive, AlwaysForMe.com serves the needs of an estimated 65 million women who wear a size 14 and larger. For more information on Always For Me, Inc. please visit our website at AlwaysForMe.com, or call toll-free, 1-888-287-8941.
###