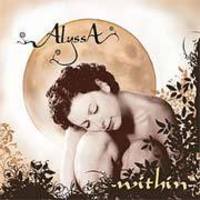 He was filthy, had bare feet and tattered clothes
New York, NY (PRWEB) January 10, 2009 - AlyssA, an accomplished stand-
up comic, writer, actress, and passionate activist for the environment and alternative health movements, has released her first full length album entitled "within." In the realm of neo/folk - soul, the music on this album is infinitely fresh and illuminating. AlyssA takes the listener on a journey as she fuses a range of genres and styles to create a unique and intoxicating sound.
The album feels like a quiet contemplation and heartfelt meditation in song. Alyssa's diverse scope of songwriting and musical styles are present throughout her work here. Her music has been described as hypnotic, meditative, soulful, earthy and ethereal.
Said of her writing process, "Songs come to me like an offering from some greater source at all times like on a walk through the woods, on the subway or driving my car." Having been diagnosed with Crohn's Disease at 19, AlyssA set out on a journey for wellness and healed herself holistically. While in the hospital, AlyssA wrote "Laughter in the Distance," track three on the album. Her passion for song-writing and stand-up comedy has allowed her to express herself and inspire others.
AlyssA began acting, singing and dancing in musicals at age six in New York City. It was years later when she worked for a small catering company cooking for bands at major venues like Beacon Theater and Madison Square Garden that she found herself surrounded by the top musicians in the world. Forming close bonds to these musicians it was then that she began to articulate what she was hearing and brought her own unique artistic vision to life.
AlyssA's "within" album opens with "Earth Child", inspired when chanting OM in a yoga class and by her love of nature. "Subway Gospel" draws its inspiration from a reaction to a homeless man trying to survive on a New York City subway. "He was filthy, had bare feet and tattered clothes," described AlyssA. "He sat right in front of me. I watched him pick up a cigarette butt from the floor, light it, then put it in his mouth and swallow it in defiance of his life giving body. It broke my heart. I wrote 'Subway Gospel' that night."
AlyssA was honored to have collaborated with renowned musician Deron Johnson who co-produced this album with her. Other acclaimed musicians involved with the album are Bakithi Kumalo on bass (Paul Simon's Graceland), James Genus on upright bass (Stanley Clarke, Brecker Brothers), Jimmy Paxson on percussion and drums (Stevie Nicks), and Chris Bruce on guitar (Seal). Since the album's release in late 2008, AlyssA has been nominated for Best Pop Song for Feel the Softness (track five) by The Inland Empire Music Awards in Riverside, California.
For more information about Alyssa and her new album, "within," please visit http://www.alyssamusic.com and AlyssA.
Media inquiries may be directed to:
Erika Maya
erika at ballantinespr dot com
Tel: 310 454 3080
Cell: 310 850 0309
Ballantines PR
# # #