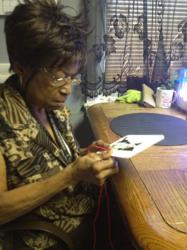 MindStart Alzheimer activities are preferred because they are adult-oriented and of premium quality.
Minneapolis, MN 55443 (PRWEB) November 27, 2012
There are 5.4 million Americans living with Alzheimer's disease or other forms of dementia according to the Alzheimer's Association 2012 Facts and Figures; 60 to 70 % of these people live at home. These people gradually become less and less involved in daily tasks and hobbies, which leads to inactivity and challenging behaviors. Jefferson Elder Care, a dementia services and training program, is changing these patterns for people with dementia through use of evidence-based techniques and use of MindStart dementia activities.
Research conducted at Thomas Jefferson University showed that when individuals with dementia are kept active with customized, meaningful activities, their challenging behaviors, such as agitation, are minimized and quality of life is increased. This research is being applied to work in the homes of individuals with dementia through the Jefferson Elder Care program. This program works with the individual and caregivers to improve the individual's safety and daily function.
The Jefferson Elder Care program is implemented by specially trained occupational therapists who teach new skills and coping techniques to individuals with dementia and their caregivers. The program includes an individualized assessment of the person's cognitive capacities and interests, followed by implementation of appropriate activities that the person can successfully engage in. They also train caregivers in how these activities can be used as a strategy to minimize challenging behaviors.
The Jefferson Elder Care program uses MindStart Alzheimer activities in their treatment approaches, as they are portable and easily adaptable for various stages of dementia. The MindStart activity products, such as games, books, and puzzles, have been made specifically for individuals with dementia. They were designed by an occupational therapist to be easier versions of traditional games and puzzles. The unique design allows the person with dementia to successfully engage in the activity, even when he has less cognitive capacity.
Jefferson Elder Care occupational therapists report they "prefer MindStart products because they are adult-oriented and of premium quality." Family members have also been pleased with the activities.
MindStart has collaborated with Jefferson Elder Care by offering their clients a discount on their first MindStart purchase. Together they hope to offer dementia care techniques and tools to keep the person with dementia active, increasing their quality of life and minimizing the occurences of challenging behaviors.
MindStart is a small, family owned business, started by an occupational therapist to provide activities for individuals with Alzheimer's disease or other dementias, while providing support and education for caregivers. MindStart works with dementia care experts and USA companies to design and manufacture adapted, yet dignified, activity products that are based on common hobbies and themes of everyday life and that provide cognitive stimulation for every stage of the dementia disease process.