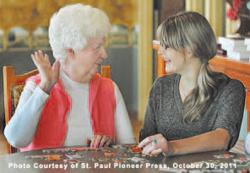 My husband could no longer do puzzles he enjoyed due to Alzheimer's disease. With a MindStart puzzle, he was delighted to put it together in just a few minutes!
(PRWEB) May 30, 2012
Today 5.4 million Americans are living with Alzheimer's disease or other forms of dementia. Over 15 million family members or friends serve as caregivers (Alzheimer's Association Facts and Figures 2012). Individuals with dementia gradually lose the abilities needed to complete daily tasks, including leisure activities. For instance, the person can have difficulty reading, carrying on conversations, following television shows, and remembering the steps when cooking. As a result of their difficulties, the person may withdraw and no longer attempt things. This can lead to a faster rate of cognitive decline.
However, with the guidance and support of caregivers, individuals with dementia can keep 'doing things', just in a different way. Caregivers, though, often do not know how to modify activities to fit the needs of the person and may lack the time or energy to think of activities or things to do.
MindStart products offer solutions to meet the needs of both the person living with dementia and the caregivers:

MindStart products are original designs by a dementia care occupational therapist. Their design is based on dementia research from the fields of neuropsychology and occupational therapy and trials with people with Alzheimer's and other forms of dementia. The final product has modifications built right into the product, that may not be clear to the untrained eye, but that make the activity easier to do, meeting the needs of the person with dementia.
MindStart products include user guides that give easy explanations of how to use the product and how to adapt the activity to different 'activity levels' or levels of dementia. Products are also designed to be durable and re-usable. This takes away the guesswork for caregivers, giving them quick and easy activities that can be successfully used over and over.
The success of MindStart products was proven in a research study completed at the University of Minnesota (Anderson K, Bruce C, Cahalan H, Kruger D, Schaber P. Program in Occupational Therapy, University of Minnesota. Testing Adapted Leisure Materials for Older Adults with Cognitive Limitations Residing in a Memory Care Facility, Poster Session 2012). The study compared standard activity products used in dementia care to MindStart products. Results showed the MindStart products could be used more independently by the person with dementia, with less caregiver oversight. This is a win-win for both, providing feelings of success for the individual with dementia and decreased burden of care for the caregiver.
Activity engagement has been shown to act as a form of dementia therapy. According to a 2012 Cochrane Review of dementia research studies, cognitive stimulation through doing activities provides a beneficial effect on memory and thinking test scores of people with dementia. The benefit was at least as good as that seen with medications, if not more so.
Activities for dementia care from MindStart include large piece jigsaw puzzles, memory books, modified games, word searches, and more. They are also good activities for elderly people, as the size makes them easier to see and manipulate.
MindStart founder, Monica, shares her desire to help people with dementia. explaining "I had occupational therapy patients who could no longer do the 100-piece puzzles or the word search books that they previously enjoyed. Our only 'next step' alternative was a child's puzzle or child's word search. I felt that we could and should do better for individuals with dementia." MindStart fills the gap in providing age-appropriate and stage-appropriate activities to allow active and joyful lives for those affected by dementia and their caregivers.
Learn more about keeping people with dementia active at http://www.mind-start.com.